"This should be a show for everyone!": what you post on the occasion of the March for LGBT rights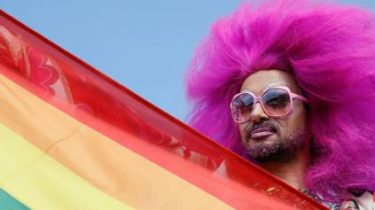 On Sunday morning, June 18, in Kiev, on the streets walked the LGBT community and those who support their rights and freedoms. Police said that in the "equality March" was attended by 2,500 participants.
However, before the event, the opponents of LGBT people came out to protest. Subsequently began the first clashes , police seized the protesters with balaclavas, gas canisters, some had even eggs. Because of the threat of the marchers had to change the route. In the end, as reported in police, detained six of the protesters.
Meanwhile, my thoughts on the March and support for LGBT people was expressed by the users of the Network. TSN.ia collection of the most interesting of them in one material.
In particular, the event was attended by British Ambassador to Ukraine Judith Gough. "Sun and well organized Kiev pride 2017. One more step towards equality in Ukraine", – she wrote.
Sunny & well organised #KyivPride2017. Another step forward for equality in #Ukraine pic.twitter.com/P3dHUKWwf5
— Judith Gough (@JudithGoughFCO) 18 Jun 2017
First Deputy Minister of economic development and trade of Ukraine Maxim Nefedov in his Facebook wrote about how he came to the "March of equality": "I Thank the National police for the exemplary organization. Guys, I'm sorry that you were forced to stand in armor in the heat – I am sure in a few years it will be just a show for everyone, as in all the capitals of Europe, and the need for walls will not be! Human rights first!"
The Deputy interior Minister on European integration Anastasia Deeva also came to the event. "All the levels. The atmosphere was great, met a bunch of friends from the government as well as ambassadors and our international partners," she wrote.
But Deputy Minister of the temporarily occupied territories and internally displaced persons of Ukraine Georgy Tuka left the Network controversial post: "the Culmination of idiocy: the police detained the Deputy of "Svoboda", who spoke against the freedom of sexual minorities". Some people in the comments asking what this expression means and I did not want any Fat to hurt them sexual minorities, however, he did not answer.
Chief editor of "Platform" on the March said:
Journalist Eugene Kuzmenko explained why he is proud of the LGBT community.
Human rights activist and openly gay Bogdan Globa ribbed accusations of some people that marches for LGBT rights promoting homosexuality.
User Oksana Tukalevskaya has expressed its opinion on the fact that we should not "equality March" called a gay parade.
Showed Network and interesting moments from March.
#kyivpride2017 pic.twitter.com/PahgsHjLUz
— Still Cadimare (@Zoreslav4yk) 18 Jun 2017
Vice Prime Minister of Ukraine on European integration Ivanna klympush-Tsintsadze noted that the event was peaceful and reminded that equality is a key factor on the path to a modern democratic society.
Happy that @KyivPride2017 passed peacefully & succesfully! Equality is key to modern democratic society. #Kyivpride2017
Comments
comments