In the "March of equality" blew up a firecracker, police seized the protesters with eggs and pepper sprays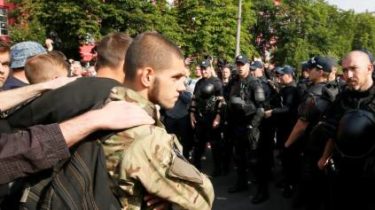 In the area of the "equality March" in Kiev on Sunday morning, June 18, several people were seized balaclavas and gas canisters. Also, the students found the eggs.
This was announced by the head of the communication Department of the Kiev police Oksana Blischik, transfers "112 Ukraine".
See also:
"Equality March" in Kiev: watch online stream
"Several people have discovered balaclavas and gas canisters. Also nearby are metro University students found eggs. We understand how they can be applied," said Blischik.
However, the TV channel reported that in the center of the blown up petard. Police on horseback trying to prevent opponents of the "equality March" in the column of March. Skirmishes began with the police, opponents of the March had set off the firecracker.
A few minutes before the beginning of the movement "equality March" the police took the ring of the opponents of the March. Opponents realized that the marchers changed the route and tried to break through the ring, there were a few attempts. But the Mounties did not give a pass to Shevchenko Park, not in the direction of the teacher's house. During these attempts, blew up a firecracker or an explosion pack, explosion was quite strong, but no one was hurt. Contractions were 3-4 minutes. After that, attempts break.
Clashes between supporters and opponents of LGBT have not yet reported, the detainees there.
We will remind, the police reported, how many people came to the March.
TSN.ia leads a text broadcast "March of equality".
Comments
comments