The participants of the "equality March" to change the route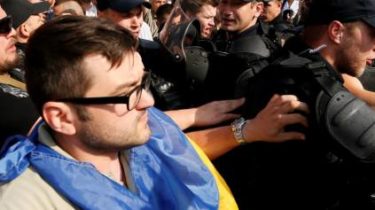 In Kiev the participants of the "equality March" changed the route to bypass contravene near the Park Shevchenko.
This is reported by volunteers of public observation "Ozon".
See also:
In the center of Kiev, people came out to "March of equality": as it was
"March of Equality began under the escort of mounted police. Go in the direction of the street. Tereshenkovskaya. Police changed the route of the March to bypass contravene. Away from the red building", – stated in the message.
It was also noted that for a few minutes before the start of the movement "equality March" the police took in the ring of the opponents of the March. Opponents realized that the Marchers changed the route and tried to break through the ring, there were a few attempts. But the Mounties did not give a pass to Shevchenko Park, not in the direction of the teacher's house. During these attempts, blew up a firecracker or an explosion pack, explosion was quite strong, but no one was hurt. Contractions were 3-4 minutes. After that, attempts break.
It was reported that "equality March" in Kiev attended by 2,500 participants.
Comments
comments