A refutation of the lies [: TSN visited "captured insurgents" positions under Water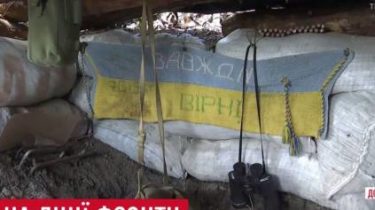 The constant attacks continued on the sea of Azov on the front portion of the Granite with the Chermalyk and down to the sea. However, information of Russian propaganda about the demise of the APU in the area of Water turned out to be fake, according to a story TSN.19:30.
"Every day," respond the defenders of the Ukrainian land near the Water to the question about how often they have to return fire on the enemy's provocation. One uses mortars, guns, combat vehicles, from time to time the tank and constantly annoy the small fire. The military said that in recent days, activity has increased, because of the position of the enemy brought new ammunition.
Videogenie denied the Russian media about the surrender of positions in the area of Water
TSN. 19:30
Today, 20:10
Facebook

VKontakte

Google+

Twitter
The military acknowledged that the positions of AFU in the area of Water for fighters – big irritant because too near Ukrainian Marines came to a controlled "DNR" fortifications, moreover, are on the front lines very convincingly and effectively. "The most intense point here now," admits the soldier, nicknamed "Highlander". According to him, fights occur very contact – at a distance of from 80 to 300 meters.
Can't win with military weapons, the invaders used the information: a week on the Internet to spread gossip about the alleged flight of fighters of the Ukrainian army under Water. Allegedly, the soldiers not only left their positions, and even threw down their weapons – and the boundaries took the militants "DNR". This is fiction Russian propaganda, proved the film crew of TSN, who visited it in the positions advanced, which supposedly are already controlled by terrorists. Military information on them, "ducks" I heard that, but saying that there is no relationship to reality these rumors have not. "Where people have taken so much fantasy?", – surprised "Highlander" and suggests that the purpose of such informitv is the demoralization of the soldiers APU.
Comments
comments