Russian investigators accused the soldiers of "Azov" in the shelling of the village of Lebedinskoe may 9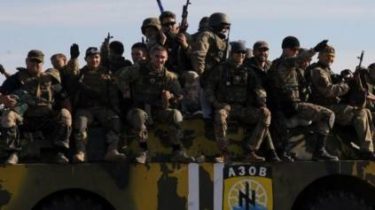 Russia's investigative Committee opened a new criminal case against seven Ukrainian military regiment "Azov".
About it reported in a press-service of the Russian authorities.
"According to the investigation, may 9, 2017, the Ukrainian soldiers of the regiment "Azov" the National guard of Ukraine: Sergeant N. Ivantsov, senior soldiers D. Shevchuk, soldier A. Corn, P. Kocian soldiers, senior soldiers I. Bezenchuk, Sergeant S. sumbatyan, carrying out criminal orders of the commander – senior Lieutenant M. Gorina, being in the village of Lebedinskoye Volnovakha district of Donetsk region in the period from 9:40 to 11:00 fired shells of 100 mm caliber artillery gun model 1944 civil facilities of the village Nameless novoazovsky district of Donetsk region", – stated in the message.
In addition, Russian investigators said that members of the national guard of Ukraine made a few dozen shots at the Central part of the village, specifically by selecting as targets houses and objects socially-cultural appointment, so that was damaged two houses, sections of a pipeline and territory of high school.
"It is clear to us that the offence was committed with special cynicism. Ukrainian soldiers apparently noting a national holiday now may 8, decided to spoil the celebration of the peaceful residents of Donbass and the victory Day in the great Patriotic war. But such an act, they once again showed their ignorance and disrespect to memory, including their ancestors who participated in the great Patriotic war", – added in the RF IC.
As noted, against the Ukrainian military brought criminal case on signs of the use of prohibited means and methods of warfare.
Earlier, Russian investigators opened a criminal case against five citizens of Russiawho are involved in activities of "Right sector". According to Russian investigators, five citizens of the Russian Federation supported the radical views and ideas of fascism and nationalism, so they went to Ukraine, where he joined the ranks of the "Right sector".
Comments
comments