Several deputies spent the night in sleeping bags under AP because of the Lviv garbage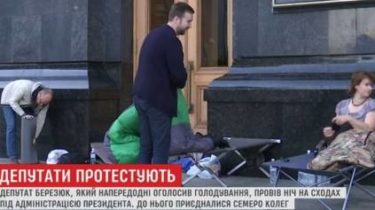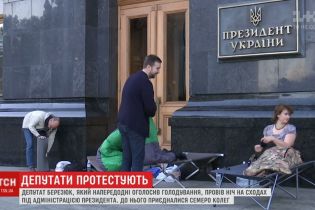 The Deputy Oleh Lavryk and 6 of his colleagues supported Oleg Berezyuk, who yesterday announced a hunger strike and indefinite picket at the presidential Administration.
As the correspondent of TSN, as of 4 a.m., all MPs were in place, the security is assured that the MPs did not go anywhere from under Administration. However, the hunger strike they joined, only supported the picket.
On the stairs of the presidential Administration – mats, blankets and a dozen bottles of water. Bought them at the store nearby. Some MPs say they managed to take the most necessary, and the superintendent was allowed to use the bathroom.
Some arranged the bed is already in place, because the picket was not prepared. Bereziuk said that the night was good. Could be more convenient, but much inconvenience is felt. It is also not yet feel strong discomfort from the fact that almost a day doesn't eat.
After spending the night most rolled up the mats and went to prepare for the working day. Bereziuk go from under walls of presidential Administration is not going to today.
Note that in the Parliament during the session of the Lviv garbage was the main topic – Oksana Rawfoodist joined the hunger strike, "Samopomich" urged not to torture citizens and to adopt a consolidated solution, and the BPP demanded the voluntary resignation of the Garden.
By TSN correspondent Anton Strashko
Comments
comments