The conflict escalates. Garden Groisman accused of cynicism because of the words of Lviv garbage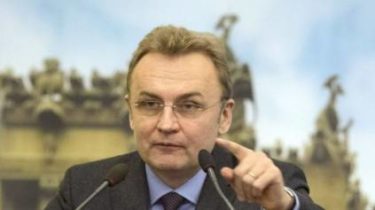 Lviv mayor Andriy Sadovy has responded to the appeals of Prime Minister of Ukraine Vladimir Groisman to help with the removal of the Lviv garbage.
"Is there a face of cynicism of the Prime Minister? Volodymyr Groysman is asking all lions to help in the elimination of the environmental crisis, if I "suddenly" turn. I remind Mr. President and Mr. Prime Minister, that they have in the boxes are five hits the city Commission on emergency situations with a request to help the city (or at least to end the blockade), which openly ignored," wrote Garden on his page in social network Facebook.
See also:
"Everything is simple". Groisman told a garden, how to solve the problem with garbage in Lviv
According to him, the treatment needed in local authorities, regional administrations and further rejections, there are hundreds.
"In particular, and the faithful ally of Vladimir Groisman, mayor of Vinnitsa Morgunova. Some openly say to your face that there is a direct prohibition "on top" even at the smallest volume to help. This is the entire "force" and "decentralization of local self-government of Ukraine", – said the head of Lviv.
The words of 14 proposed sites for a landfill within the Lviv region of Garden called a blatant lie and was called to unlock the existing landfills for household waste and provide a site for a new reserve landfill for the city and 4 districts of the region.
there is a limit to the cynicism of the Prime Minister? Volodymyr Groysman is asking all lions to help in the elimination of ecological crisis…
Published Andriy Sadovy 19 Jun 2017
As previously reported, in Lviv last summer, continuing problems with the removal of garbage due to the closure Gribovichi the landfillwhere the fire occurred. Lviv mayor Andriy Sadovy appealed to the Cabinet with the requirement to declare the city's environmental emergency due to the continuation of the "junk blockade". The mayor argued that the attempts to temporarily haul waste to other landfills stumbled upon "systemic and organized resistance," and the Directors of other landfills where household waste was going to take temporarily, felt the pressure and threats.
Subsequently, Prime Minister Vladimir Groisman during a conference call with the regions stated that the government may allocate from the state budget of 50 million UAH for arrangement in Lviv city landfill.
See also:
"Everything is simple". Groisman told a garden, how to solve the problem with garbage in Lviv
Videoscopy said that garbage blockade of Lviv is still ongoing
TSN. 19:30
9 Jun, 20:36
Facebook

4

VKontakte

1

Google+

Twitter

2
Comments
comments