Night race in Kiev: the offender fled and later abandoned the car near the shopping center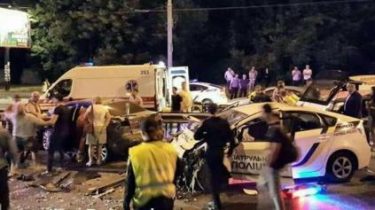 Kiev police announced the details of the night of the chase in which a patrol was caught in an accident – the offender is still being sought, reports the correspondent of TSN.
The police reported that the perpetrator was chased by two police cars. A fugitive in the eyes of the militiamen turned around and went in the direction of the Industrial bridge. After a chase, the offender drove into oncoming traffic and resulting maneuvers a police car crashed into a civilian.
In the event four victims – three of them received serious injuries, but no life-threatening.
Police shot a wheel the fugitive, but he still fled the scene. The second patrol stopped the pursuit to help the victims in the accident.
Subsequently, the pursued car with foreign license plates was found near one of the shopping centres. The offender continue to seek, to search for the drew dog handlers.
Recall that information about the accident and video from the event in the network appeared the night. However, details of the accident remained unclear.
By TSN correspondent Anna Bock
Comments
comments