DRG militants came to positions of military near Mariupol and tried to throw their grenades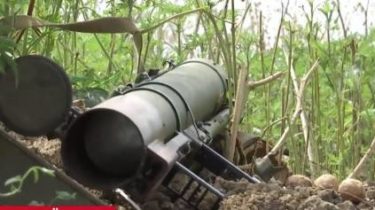 In the southern sector of the front in the area ATO fighting aktiviziruyutsya at night. For the past day Ukrainian military there were not only automatic and machine gun fire, but the shells and RPGs and mines, said in the story TSN.19:30.
Line of defense in the area Lebedinsky shot even heavy 120-gauge, and in the direction of the advanced locomotive near Shirokino fighters worked from guns infantry fighting vehicles. However, the attack last night, though, and looked impressive, in fact, a significant threat to the military not carried. The men attribute this to the fact that the enemy fired at random – not aiming to get, and to make nervous and to keep the tension.
Videocopy and shooting at random: the military told about the behavior of the militants near Shirokino
TSN. 19:30
Yesterday, 20:25
Facebook

VKontakte

Google+

Twitter
Ukrainian military recognized that such attacks are usually do not respond. They say, the sense a little, but with an explanation violated the Minsk agreement – then you will have to write a lot. This argument is valid, as long as the enemy fire does not turn into a sighting. Then the army with the strikers do not stand on ceremony, when their own life is more expensive bureaucracy. Recently, the soldiers on the sea of Azov had to solve just such a dilemma: their positions approached the enemy dig, and if not for the fire from the Ukrainian side, the positions of the APU just threw the grenades.
Much harder to deal with long-range artillery of the invaders. The military on the front lines say they have information about the places of its location, but to give the order to hit the coordinates can only be the commander who is responsible to senior leadership for each case of violation of the truce. Why the ATO is increasingly becoming a classic trench war of nerves. CSKA daily watching the enemy fortifies its borders, fills concrete in the dugouts, and setting up gun emplacements. And that Ukrainian soldiers are not happy because to beat the enemy with a well-equipped engineering positions is much more complicated.
Comments
comments