In the UK students wear skirts to protest ban on shorts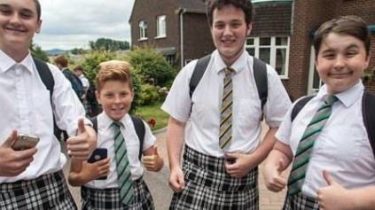 In the UK children wearing skirtsto protest ban on shorts.
This writes The Dailymail
Rules school in Exeter, in Devon, insist that the guys nosali long pants even during the heat, But five boys came to class in skirts. Later did another 50, borrowed skirts from girls peers. Some borrowed skirt just near the school.
After the protest turned into mass, the school started to think about revising policy. But then the school kicked out several students.
Besides, one of the disciples said that his skirt is too small, and his legs are too hairy. Therefore, some of the boys bought a razor the way to school and shaved my legs – the protest continues.
See also:
Off the grid: Ivan Dorn in a wig, tight skirt and a leather top SETUSER with prostitutes
Recall that French drivers were dissatisfied with working conditions, have resorted to the original form of protest.
To feel a little more comfortable in the incredible heat, they went to work in skirts.
Comments
comments