Poroshenko told the date of the full introduction of the Association agreement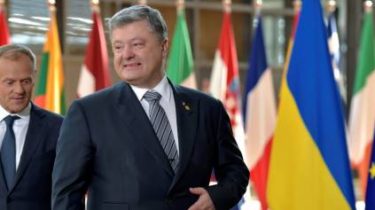 June 22 the President of Ukraine Petro Poroshenko after a meeting with President of the European Council Donald Tusk in Brussels assured that the Association agreement will take effect in full from 1 September.
It will be ratified in the near future. According to uranta, the last two months have been for our state victories.
See also:
The U.S. Congress will expedite consideration of the resolution on recognizing the Holodomor as genocide of Ukrainians – Poroshenko
"The last two months – a time of big wins for Ukraine. It is very important that Ukraine has received the right to visa-free travel to European countries", – said Poroshenko.
From 1 September, the Association Agreement will work in full – Poroshenko pic.twitter.com/hyHx603nFp
— Svyatoslav Tsegolko (@STsegolko) June 22, 2017
Honored to meet today with my great friend the President of the European Council Donald Tusk. Ukraine and the EU closer than ever until now pic.twitter.com/xnjUbCAn0I
— Petro Poroshenko (@poroshenko) on the 22nd of June 2017.
As previously reported, Poroshenko went to Brussels after his visit to the U.S., where he met with President Donald trump.
Comments
comments