Guzhva suspect handed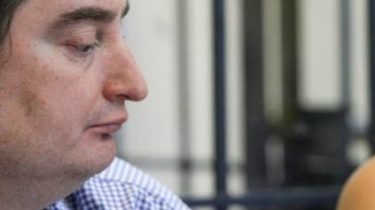 Chief editor of newspaper "Strenia" Igor Guzhva has already handed over the notice of suspicion.
This was stated by his lawyer Elena Lukash and published in Facebook video, which Guzhva comment on reports.
"Only that I was given to read the notice of suspicion in the main administration building of the National police of the city of Kiev," said Guzhva.
It is further submitted that, the message "this is a complete falsification and lie."
And again with you Igor Guzhva. Just introduced to palosai. This is complete nonsense and a lie. Amazing document – no….
Posted by Lena Lucas on June 23, 2017
See also:
HCP has published a video in which Guzhva allegedly demanding money neosartorya materials
Information on the presentation of the suspicion was confirmed by press Secretary of the Prosecutor General Larisa Sargan Facebook. "The detainee I. Guzhva handed suspicion of committing a crime under part 3 of article 189 of the criminal code (extortion)," later she said.
I. Guzhva detained the suspect handed
Published by Larisa Sargan on June 23, 2017
Videopanel editor "Strenia" arrested on charge in extortion of 10 thousand dollars
TSN. 19:30
Yesterday, 19:51
Facebook

VKontakte

Google+

Twitter
We will remind, in the evening of 22 June, editor-in-chief of the edition "Strenia" of the Igor Guzhva was detained.
According to Prosecutor General Yury Lutsenko, Guzhva received 10 thousand dollars to not publish the dirt on one of the politicians. The journalist says that the case against him was fabricated.
After his arrest came two lawyers, but they are not missed in the editorial office. It turned out that one of the defenders Igor Guzhva in the room is still there is the Minister of justice of times of Yanukovych Olena Lukash.
She said that now Guzhva is located in the city police Department.
Note, in 2015, Igor Guzhva was wanted on suspicion of intentional evasion from paying taxes on about $ 18 million. On 1 August he arrived in Kiev and immediately went to the investigator a statement that it did not intend to hide from law enforcement.
On 29 July it became known that Igor Guzhva left the media holding "Vesti Ukraine", and also stepped down as editor-in-chief of the daily newspaper "Vesti".
Later, former chief editor of the newspaper "Vesti" Igor Guzhva has made for himself a pledge of $ 1 million 35 thousand 300 UAH (about 850 times the minimum wage), his court-appointed 4 Aug.
Comments
comments