Lutsenko has announced yet another representation in Parliament to remove the immunity of MPs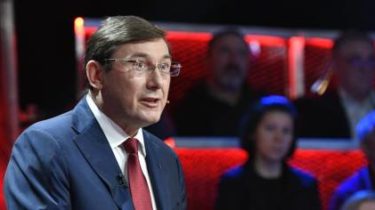 The Prosecutor General of Ukraine Yuriy Lutsenko has announced yet another representation of the Prosecutor General in the Parliament regarding MPs in the coming days.
It is reported by Interfax.
"The end of this cleansing series in the Verkhovna Rada? No, not the end. In the coming days you will hear another message, and many members will be considered in the autumn", – said Lutsenko.
He stressed that all the five MPs, which is already in Parliament submission to the lifting of parliamentary immunity, there is sufficient evidence to bring them to justice.
"Whether they (the evidence) is enough for suspicion? I think, Yes. Will they be enough for an indictment? Most likely, Yes, But there is still a stage of a pretrial investigation, which will be held within a reasonable time. From my point of view – until about six months", – said the Prosecutor General.
See also:
In the GPU told that stopping "tomorrow" to send representation on removal of immunity of three deputies
We will remind, Lutsenko asked BP to coordinate the prosecution of five people's deputies. The Prosecutor hopes that the Parliament will consent to the criminal prosecution of their colleagues. The submission relate to: the Deputy from NF Eugene Dade, the group "will of the people" Oleksiy Dovgiy, "Radical party" Andrey Lozovoy, Deputy from BPP Borislav Rosenblatt, MP from the NF Maksym Polyakov.
Later it became known that the speaker of the Verkhovna Rada Andrew Parubiy sent five ideas about to remove the immunity of 5 MPs in the procedural Committee of the Verkhovna Rada.
Video settings the Parliament received the submission on the removal of parliamentary immunity from MPs 5
TSN. 12:00
June 22, 12:38
Facebook

VKontakte

Google+

Twitter
Comments
comments