Fallen trees and flooded streets. In Kiev swept a powerful shower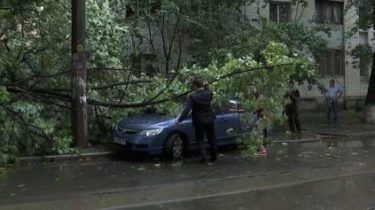 After lunch some of the districts of Kiev was covered with a strong, short shower. In particular, heavy rain with the hurricane swept over the Podil, Obolon, Troyeshchyna and several districts of the capital.
Kiev began to publish in social networks live with the consequences of downpours. So, on the hem of the powerful gusts of wind, the tree rolled the car. As a result, nobody was hurt, and the car managed to pull out from under the branches almost intact.
Video settings in Kiev during heavy rain, the tree rolled car
Kiev
Today, 17:40
Facebook

1

VKontakte

Google+

2

Twitter
Bearing-down Sliva have CIV
Boobd of Kyiv nakryla bearing-down Korotkaya Sliva. TSI Kadri mi safal on Podol. Not sasdemo Tim, hto wypadkowe potrativ from DOSCH
Posted by TSN on Monday, June 26, 2017
Also the footage shows how some of the streets flood, and the wheels of cars almost completely under water. Users report that it is in the street Stetsenko.
In Kiev, it was raining.
Posted by Car Kyiv on Monday, June 26, 2017
The hem also podtopilo several streets and passers-by had to cross via a makeshift bridge – a conventional shop has moved through a deep puddle, so that people could get on the dry side of the street.
Posted by Konstantin Grubich on Monday, June 26, 2017
But Kiev zoo published a video in which animals are happy today sink. "And are You glad today's storm as did our elephant and the Hippo?", reads the caption to the video.
The zoo is a place that brings joy!
And are You glad today's storm as did our elephant and Hippo?
Posted by Kyiv Zoological Park of national importance on Monday, June 26, 2017
Note Ukrgidromettsentr warned Ukrainians about thunderstorms and with hail showers on 26 and 27 June. So, on June 27 during the day in Vinnytsia, Cherkasy, Poltava, Sumy, Kharkiv, Dnipropetrovsk, Kirovograd, Mykolaiv, Odessa regions of thunderstorms, sometimes hail and squalls of 15-20 m/sec.
Night thunderstorms are expected in Chernihiv, Kyiv, Zhytomyr, Ternopil, Khmelnytsky, Lviv, Zakarpattia, Ivano-Frankivsk, Chernivtsi regions of the storm. Hail and squalls forecast day in Kherson, Zaporozhye, Donetsk and Lugansk regions.
Comments
comments