In Kiev wants to stop the sale of street food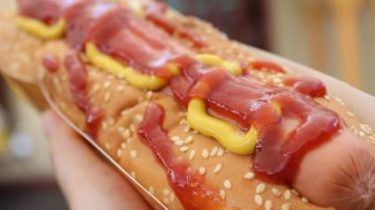 In Kiev, the activists began to fight with street food, says the story "Sedanka z 1+1".
Related petition appeared on the website of the Kyiv city Council.
Videotelefonie activists took up the fight against street food
Snidanok 1+1
Today, 09:03
Facebook

VKontakte

1

Google+

Twitter
"Due to the fact that the uncontrolled sale and the food is prepared on the street (hot dogs, Shawarma, etc.), cases of food poisoning among citizens. Still this trade is a significant obstacle to the free movement near the public transport stops and metro stations," reads the petition.
We will note, last year in July due to salmonellosis in hospitals was almost 90 people. All the victims in Odessa Izmail, and on the eve of the poisoning ate Shawarma. Then, because of the outbreak in the city closed 13 eateries selling Shawarma, hot dogs and pies.
However, in Kiev, such drastic measures do not support all. Many citizens like to eat fast food. Sellers assure, what to buy fresh food and cook for themselves, so street food is completely safe.
At the same time, those who support the ban of such trade, complain about the cluttering of the city and the unsanitary conditions, they say, sellers Shawarma and hot dogs do not wash their hands.
Doctors also strongly emphasize that street food is risky.
"Meat pies, doughnuts and even corn, which on the street is also being prepared. We don't know whether to clean the equipment with which it is to be prepared. Where is the guarantee that it will not be spoiled until the end of the day of sale. Dangerous, that develops food poisoning or as we call it in the home, poisoning. So, there is nausea, vomiting, temperature, diarrhea," – said the doctor-the therapist Natalia Gordienko.
Currently the petition to ban street food in the capital has already supported more than a hundred people. To the initiative considered by the city Council, she needs to get 10 thousand votes in a period of 3 months.
Recall that in Ukraine there are also the preconditions for the epidemic of botulism. Over the past week from-for poisonings with dried fish died already the fourth person.
Symptoms of botulism can masquerade as other diseases and it often happens that poisoning people go to an ophthalmologist or neurologist. "The first symptom that patients notice is the deterioration of view. Then maybe dry mouth. The sooner a patient seeks help, the more successful the treatment will be", – said the chief doctor of the Odessa city hospital Svetlana Lavrikova.
Comments
comments