Macron stated that it is ready for the meeting channel four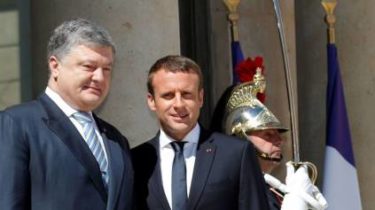 The President of France Emmanuel macron at the end of the meeting with the Ukrainian guarantor Petro Poroshenko announced Normandy format talks on Ukraine.
About it reports Reuters.
The French leader stressed that the talks should be held in late June or early July.
"We are really attuned to the Minsk process. Before meeting "the Big twenty" (7-8 July in Hamburg – Ed.)… We support the idea to resume cooperation in the "channel format" with the involvement of the OSCE. That's what I suggested to all parties", – UNIAN cites a quote Makron.
Meeting politicians took place in the framework of Poroshenko's visit to France. In addition to the Makron he is scheduled to meet with Prime Minister of the French Republic, Edouard Philippe and Chairman of the French Senate Gerard Larcher.
Comments
comments