Military report about the high probability of a ground support action of the enemy in Luhansk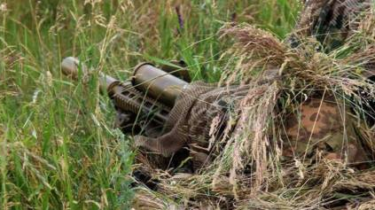 In the area of the ATO forces detained a group of saboteurs, spies. In General, it is six militants. This was stated by the Ukrainian side "of the Joint center for control and coordination". There are warning about the enemy's attempts to disrupt the truce and possible attacks against the civilian population. In particular in the direction of Lugansk. Over the past day, according to the ATO staff, militants 23 times violated the ceasefire. One Ukrainian soldier was injured. Hottest again in Luhansk. Intense mortar attack near the Trinity is to the West of Lugansk, opponents began about 9 p.m., according to TSN.16.45.
"Began to shoot less, but every day and the caliber is changed. Then 120 arrived, and now less – 82 started," says one of the fighters.
Less than half a dozen attacks on all fronts from the very beginning and until nightfall on Sunday. Five is a quarter of hundreds of fire provocations of militants as of Monday morning.
See also:
In occupied Luhansk region during field work blew up a KAMAZ with civilians
Over their heads at times flying enemy jet Grads. On all the positions show you guys broke dozens of heavy mortar and howitzer shells. Now, they say our soldiers, for several days, as their sector of the front long-range artillery of the invaders are not heard. But, and silence, recognized warriors not felt absolutely. After the evening mass mortar shelling, are now on the dawn from the enemy trenches again hit the mortar.
Not that it failed once, the latest so-called truce khliborobne. It say to our soldiers in the district of Trinity, fully and wholly, simply, did not exist.
Video settings SCCC warn about possible attacks against the civilian population in the East
TSN. 16:45
Today, 17:08
Facebook

VKontakte

Google+

Twitter
About the high probability of a ground support action of the enemy in Luhansk, the boys admit that they know. Around the clock, talking watch as strangers every day do explosions, developing its own line of fortifications and assume it can be not only protective varieties.
Comments
comments