The head of "PrivatBank" has filed a letter of resignation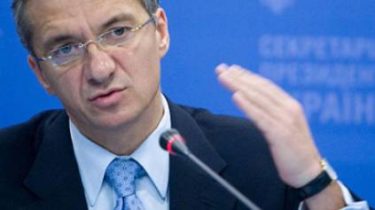 State "PrivatBank" will soon be without a leader – Oleksandr Shlapak said that dismissed. The Supervisory Board has not yet considered the issue of dismissal of the head of the financial institution, however, issued a statement in which he confirmed the resignation of Shlapak.
"Chairman of the Board of "PrivatBank" Oleksandr Shlapak has fulfilled in full measure the tasks to stabilize the situation in the Bank and audit reports of the financial condition of "PrivatBank" and soon plans to complete the anti-crisis term on a post of the Chairman of the Board PJSC CB "PrivatBank". As reported in the Bank's Supervisory Board, Chairman of the Board continues to manage the Bank, while the corresponding statement of the Chairman of the Bank have already been submitted to the Supervisory Board and may be reviewed at the next meeting of the Supervisory Board of the Bank at the end of July," – said in a statement.
See also:
The court ordered PrivatBank to return more than 1 billion UAH the family of Surkis
The Supervisory Board notes that Shlapak was able to implement a program of crisis management than was provided for sustainable development of the Bank. After the nationalization of "PrivatBank", as the report says, "continues to hold its leadership position the most technologically advanced Bank, to introduce innovative products and provide best customer service".
See also:
"To hell with the papers!": the former IT-Director of "PrivatBank" will provide access to the service code "Folder"
"During these six months the Bank returned to depositors, expand the list of customers of the Bank through the municipalities, the restored mortgage lending and has implemented the program "Warm loans." Thanks to the work of the Bank's management completed the audit of the financial statements in accordance with international standards. Approved by the government and the Supervisory Board financial report of the Bank for the year 2016 and the audit report thereon. On 23 June, the government adopted a decision on recapitalization of "PrivatBank" in the amount of 38 billion 565 million UAH", – stated in the message.
Videocolonoscopy said that the statements of the national Bank can hurt "PrivatBank"
TSN. 19:30
22 Jun, 20:33
Facebook

VKontakte

Google+

Twitter
We will remind, "Privat" was nationalized at the end of December 2016. Now the Bank is 100% owned by the state and subordinated to the Ministry of Finance. Meanwhile, the former owners are challenging the nationalization of "PrivatBank" in court. Lawyers say that one of the reasons of return of the enterprises in state property was declared by the national Bank the number of credits issued to certain persons, but the cause is still not confirmed.
23 June it became known about the decision of the government on the recapitalization of the Bank 38.5 billion UAH.
Comments
comments