Poroshenko announced the achievement of important agreements at the meeting with Macron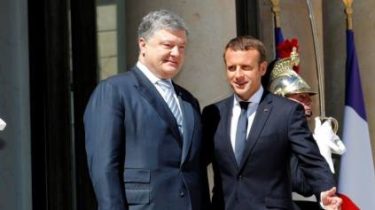 The President of Ukraine Petro Poroshenko a big part of the negotiations with the leader of France Emmanuel Macron has devoted to the situation in the Donbas.
In particular, the presidents discussed tactics for a few weeks.
"The bulk of the talks focused on the situation in the East of our state, countering Russian aggression against sovereign and independent Ukraine and the situation in the Crimea", – said Poroshenko.
See also:
France does not recognize the annexation of Crimea – macron
The leaders also plan to hold consultations and coordinate their positions, to improve the efficiency of a possible meeting in the Normandy format.
"We don't need hours of negotiations. We are confident that the desired quality of the prepared documents and those documents the approval of which should bring peace to long-suffering Ukrainian land," – said Poroshenko.
Videoporoshenko and macron warmly shook hands before talks in Paris
Policy
Today, 14:13
Facebook

1

VKontakte

2

Google+

1

Twitter

1
According to Poroshenko, "this world might look like in the end the Russian aggression".
"We are confident that the safe component of the Minsk agreements should be preceded by a political component and strengthen the role of the OSCE, including armed OSCE mission and the OSCE presence 24 hours a day is the key to effective implementation of the Minsk agreements", – said the Ukrainian President.
In addition, the presidents of Ukraine and France discussed the release of the hostages.
"Special attention was paid to the necessity of accelerating the release of the hostages. 128 hostages are in occupied territory and over 40 in Russian prisons. And we expect that due to the revival of negotiations in "Norman format" we will achieve progress in a very sensitive sphere," – said Poroshenko.
Poroshenko also added that the lack of recognition of the EU and by France to the annexation of Crimea is the Foundation for the continuation of the negotiation process.
"I am grateful to Mr President for his optimistic assessment of the Minsk agreements and the support position towards the OSCE. I am confident that together with the tough stance of France and the EU in the Crimea with the recognition of the illegal annexation of Crimea in 2014 is a solid Foundation for the continuation and expansion of our negotiation process with France and the EU. We are confident that planned activities, including consultations at the level of the group of seven, bilateral cooperation, security policy and scheduled for the next few months, the programme reflects the huge potential that have the relations between Ukraine and France", – concluded the President of Ukraine.
Meeting politicians took place in the framework of Poroshenko's visit to France. Except for Makron, he is scheduled to meet with Prime Minister of the French Republic, Edouard Philippe and Chairman of the French Senate Gerard Larcher.
Comments
comments