The massacre in the capital Hydropark: the police said details of the fighting, which wounded the military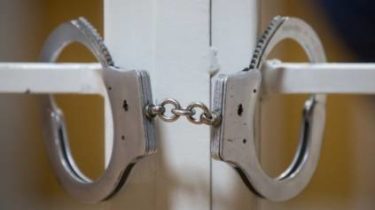 Yesterday, June 25, in the capital Hydropark was a mass brawl.
In particular, around 19:30 the duty of the police received a message stating that on the territory of Hydropark was a fight, resulting in one of the participants was injured, reports a press-service GU of NP in Kiev.
See also:
Prisoners in Sumy waged a deadly fight over a beaten "authority"
According to head of the Dniprovskiy police Department Alexander Kuzmin, law enforcement officers found an unidentified man after first aid the paramedics was admitted to the hospital. Police immediately interviewed witnesses and witnesses who helped to establish the circumstances of the incident.
"Previously, we found that 23-year-old victim, who is in the military in the capital, at the weekend together with a friend rested in a place of entertainment. When they went outside, met another company of three people. Between men there was a conflict, causing one of the opponents punched him in the stomach with a knife and then fled," – said the chief of police.
Videovista or suicide: in the capital from the window of a 9-etazhki fell fighter ATO
TSN. 19:30
23 Jun, 20:40
Facebook

VKontakte

Google+

Twitter
The scene, the experts withdrew the washouts of substance of brown color and a penknife, which was sent for analysis. Subsequently, law enforcement officers saw and stopped a man matching the description of the attacker.
"In accordance with article 208 of the Criminal procedural code of Ukraine 42-the summer inhabitant of Kiev detained and delivered in police Department. In fact the investigators have contributed information in the Unified register of pre-trial investigations and opened criminal proceedings under article 121 of the Criminal code of Ukraine", – said Alexander Kuzmin.
Now the victim is under medical supervision, and in relation to a detainee who was previously convicted for property crimes, the question concerning election of a measure of restraint. The efforts of law enforcement authorities aimed at establishing all the circumstances.
We will remind that earlier the Shevchenkovsky regional court of Kiev chose a measure of restraint for the suspect in the murder of veteran ATO Sergey Oleynik , Anatoly Chepikova. The crime occurred near the Golden gate in Kiev.
"Tried to hide the evidence, to escape. Prosecutors asked for two months without bail. The court upheld their request," commented the press Secretary of the Prosecutor's office Hope the maximes.
The suspect demanded that the man-the musician the money and threatened violence. For the victim of the attack said the father. Oleinik victim's two fatal stab blow to the stomach and chest. The murderer was arrested on the roof of the 5-storeyed building opposite.
Videophotographer in the murder of Sergei Oleinik facing 15 years behind bars
TSN. Week
Yesterday, 21:42
Facebook

6

VKontakte

1

Google+

Twitter
Comments
comments