The owner of the burned grocery store on Khreshchatyk promises to restore the building and open a hotel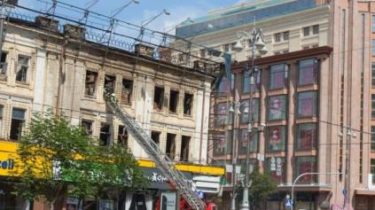 The former owner of Central Department store on Khreshchatyk in Kyiv, which suffered from severe fire, has promised to restore the building and turn it into a hotel.
This was during the briefing said the representative of the Vladimir Kalinichenko.
"It will need to invest a lot of money, because even one project, given the bureaucracy in Ukraine, will take a lot of time and money. However, this does not frighten him, and he is ready to invest and ready to restore this house in a historical view", – quotes his words UNIAN.
Kalinichenko argues that the discussion of the building project can join everyone. This can be done in particular on the page in social network Facebook.
See also:
The singer has already filmed with a drone video of consequences of large-scale fire on a capital Khreshchatyk
"We are ready to present it in all possible ways: social networks, Internet, performances on television, and everyone will be able to contribute to this object", – he added.
On the site of the building after restoration is likely to be a hotel. The owner of the facade object do not promise to change.
"Today we cannot call the timing of restoration, since we had ordered the examination, which will assess the condition of the building and of the façade, and after that it will be possible to draw conclusions in terms of what will prepare design documentation," said Kalinichenko.
According to him, before the fire in the building has not been renovated since the work can be carried out after the approval of design documentation, due to the bureaucracy and the "unstable situation in the country" were not made. Also, the owner's representative added that the cause of the fire is not yet established.
Part of the building plan to dedicate to the Museum of the Russian artist Mikhail Vrubel, who once lived in this house.
"The owner of this building, there is a desire to make the Museum of Mikhail Vrubel. We plan, jointly with the Kyiv city state administration to hold a competition to attract the best architects and restorers," – said the expert of scientific research Institute "Bodyapproach" protection of property rights Daria Kusherets.
We will remind, large-scale fire occurred on Khreschatyk street on June 20. The building, which erupted, located on the corner of Khreshchatyk and Bohdan Khmelnytsky, opposite the Central Department store. It is a public catering and shops, and beside the Pechersk court. Rescuers extinguished the fire late in the evening. The fire burned construction materials, partitions and ceilings between the second and third floors and roof of the building. In addition, there is the threat of partial destruction of the building. While extinguishing a fire the dead and injured were not.
Comments
comments