In Kiev in a car detonated the Colonel of the Main intelligence Directorate of the defense Ministry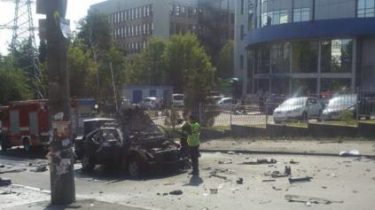 During the explosion a car in Solomenskiy district of Kiev killed a Colonel of the main intelligence Directorate of the defense Ministry.
This was reported in the press service of the defense Ministry.
"This morning, June 27, in the Solomensky district of Kiev there was a car bombing, which killed an employee of the Main intelligence Directorate of the Ministry of defense of Ukraine Colonel Maksym Shapoval," – said in the message.
See also:
In a Network there was video of a powerful explosion of a car in Kiev
Currently, the event qualified as a terrorist act, all the circumstances of the accident are established.
As told on his page on Facebook volunteer, former commander of national guard of Ukraine, a reserve officer Miroslav gay, during the explosion used 500 grams of TNT.
"The war is long in Kiev. There is no month that the Russians didn't kill someone in the capital. Every month we lose officers from different departments responsible for important areas. Just not everyone comes to the media," he said.
In turn the military and volunteer journalist Roman Bochkala said the explosion in Kiev "war of terror" and noted that the military "removed" on the eve of the Constitution Day of Ukraine.
Recall, today, June 27, in the morning in Kiev, a massive explosion, during which smashed the car completely burnt out. It happened near the junction of streets Solomenskaya and Mechanics in Solomenskiy district of the capital. Users of social networks suggest that Mercedes could detonate a bomb because the blast blew off even the roof of the car. Also note that the explosion was heard almost in the entire district.
Comments
comments