The explosion of the car of Colonel Gur in Kiev, was injured two passers-by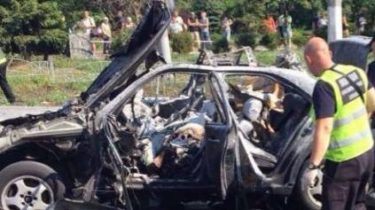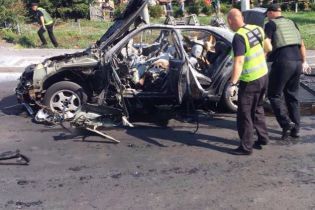 Two passers-by suffered shrapnel wounds in an explosion in the Solomyanskyi district Kiev car of a Colonel of the Main Directorate of intelligence of the Ministry of defense of Ukraine Maxim Shapoval.
About this in his Facebook reported the press Secretary of the Metropolitan police Oksana Blischik.
According to her, we are talking about a man born in 1946 who were injured in the chin, and a woman born in 1990. At the same time, it is noted that the lives of victims threatens nothing, and hospitalization was not needed.
See also:
In a Network there was video of a powerful explosion of a car in Kiev
"The explosion injured from Kiev, 1990 the Woman was taken to the hospital, where she provide the necessary medical care. According to preliminary data doctors, he had shrapnel wounds of the legs, to his life threatens nothing. For help to the doctor asked a man, 1946 R., with shrapnel wounds of the chin. Both victims had no further hospitalization," – said in the message.
POLICE WORK AT the scene of the EXPLOSION IN SOLOMENSKIY DISTRICT of KYIV (UPDATED at 11:30) as a Result of the accident killed the driver. Face…
Published by Oksana Blischik 26 Jun 2017
In turn, Deputy Prosecutor General of Ukraine – chief military Prosecutor Anatoly Matios on his page in Facebook wrote that the explosion of a car in Kiev, which killed an officer of the defense Ministry, will be investigated by the Main military Prosecutor's office.
"The decision (ruling) of the public Prosecutor criminal proceedings on the fact of committing of today's terrorist attack against the officer in the Ministry of defence submitted for investigation to the Chief military Prosecutor's office," he said.
In addition Matios expressed condolences to the family of deceased military.
The Ministry of internal Affairs, in particular, said that the cause of the explosion was a car bomb.
"What device, what is power, homemade or stationary, will be installed after carrying out investigative actions", – said the Director of the Department of communication of the Ministry of internal Affairs Artem Shevchenko.
Recall, today, June 27, in the morning in Kiev was rocked by a powerful explosion, during which he smashed a carthat was completely burnt to ashes. It happened near the junction of streets Solomenskaya and Mechanics in Solomenskiy district of the capital. Users of social networks suggest that Mercedes could detonate a bomb because the blast blew off even the roof of the car. Also note that the explosion was heard almost in the entire district.
Comments
comments