In the center of Kiev, relatives of the prisoners of the Volunteers required to bring them home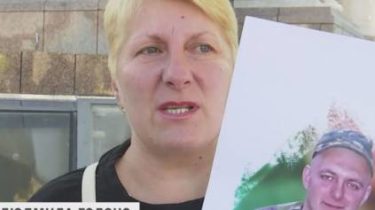 Family and friends are captured by the fighters of the Ukrainian military came to the center of Kiev, to remind the authorities about their men. This is stated in the story TSN.16:45
E some military term captivity has already crossed the milestone of a thousand days. Wives, mothers and children hope that them will hear.
Lyudmila came bp onward together with his brother's wife. Home two daughters, the little Sergei was still not seen. Together with fellow Alexander they are in captivity 864 days.
"Last time I heard him on 21 June 2016. At the moment, no calls, no letters…" – says the woman.
See also:
The exchange of prisoners in the Donbass can not be, as the separatists did not have the will.
In early 2015 under Debaltsevo was ambushed and Liudmila's son, Alexander. Several times he wrote letters that alive and keep it in Makeyevka.
"I'm asking you, you hold on son, we're worth very much. And I love you and we all love you, hang in there please," said the mother of the prisoner.
According to official data, today in captivity of fighters there are 132 of the Ukrainian military. Anecdotal evidence – at times more. Especially with regard to the missing.
Some mothers have not seen their sons even with the Ilovaisk encirclement. The son of Elena – kambaskovic Ruslan Sugak. First there was information that hit a trip wire, were in hospitals Snow, Donetsk, Luhansk then like in the colony. They lost the trail two years ago.
"It was a lot dobrobatov, still no one knows the exact figures neither dead nor captured, so perhaps this is distorting the location of our children," she explains.
Worried relatives when the military will return home. The last exchange took place in December last year. Today the part of mothers and wives have the opportunity to pass on to the guys congratulations. In some colonies takes for the signal to Ukrainian TV channels and those guys allow you to watch the news. Even so – the house favorite pass to stay.
By TSN correspondent Ivan Grebenyuk.
Videoradio prisoners and missing soldiers held in the center of Kiev a rally in support of their men
TSN. 16:45
Today, 17:06
Facebook

VKontakte

Google+

1

Twitter
As previously reported, the representative of Ukraine in the Tripartite contact group Irina Gerashchenko said that the number of prisoners of Ukrainiansbeing held by Pro-Russian militants in the Donbas had increased to 132. According to her, "now in this list and a journalist, and civilians who were grabbed by Pro-Ukrainian position. But the second side does not confirm the presence of many people from this list".
Comments
comments