Dobkin, "shining" deprivation of parliamentary immunity – media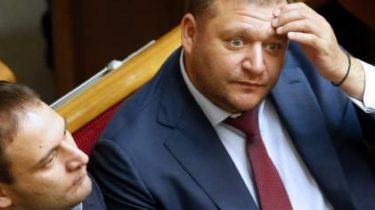 With the people's Deputy from "Oppositional block", the former mayor of Kharkiv and the former head of the Kharkiv region Mikhail Dobkin can remove the immunity.
This is with reference to own sources reports "Ukrainian truth".
At the same time, the publication notes that in the GPU while the name of the MP is not confirmed, nor denied, noting that to sign the performance plan before the end of the week.
We will remind, earlier Prosecutor General Yury Lutsenko announced the idea of lifting the parliamentary immunity of MP to the Verkhovna Rada.
"Counting the days to meet in the procedure before the holidays BP. I hope that most members will find the opportunity to positively vote on the Committee and in the audience that law enforcement officers had the opportunity of establishing the truth. But even better would be to submit to BP an amendment to the Constitution on the abolition of the feudal in nature of the rules on parliamentary immunity. Moreover, the constitutional court has already agreed the text of the changes," he said.
Note that on June 27 the staff of the GPU together with the security service has searched the premises of the Kharkiv city Council, removing the documents that contain data about the illegality of land allocation, as well as information about the persons involved in Commission of the specified crime.
Pre-trial investigation established that officials of the Kharkiv city Council by creating for 2008-2014 years, more than 90 service cooperatives have contributed in making legal documents and misappropriated belonging to the territorial community of Kharkov land plots with a total area of over 650 hectares worth more than 4.05 billion UAH. Pre-judicial investigation proceeds.
Comments
comments