Poroshenko said that to revoke awards from Gerega and Atroshenko are not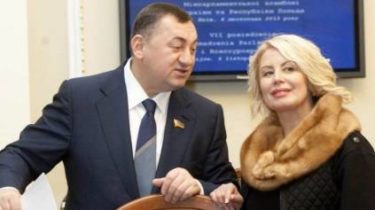 In the President's Administration has not released information what exactly awarded people's deputies Alexander Gerega, Konstantin Isakin, the Prosecutor Konstantin Kulik and the mayor of Chernihiv Vladislav Atroshenko, Ukrainian Pravda wrote.
In response to the request of the publication in the press service of the AP reported: "the preamble of the decree is General, it is not concretized merit (contribution) of each awarded person. Specific services (contribution) are specified in award letters that are sent together with the idea of awarding. "However, award letters contain sensitive information about individuals (personal data), therefore, may not be transferred to third parties".
See also:
Suspected of illicit enrichment odious Kulik was appointed to the GPU
Poroshenko noted that the idea of awarding the Konstantin Isakin and Alexander Gerega was introduced by the Chairman of the Verkhovna Rada. The idea of awarding Vladislav Atroshenko made the Chernihiv regional state administration with the written support of the President of the Association of cities of Ukraine Vitali Klitschko. The idea of awarding the Konstantin Kulik made by the General Prosecutor's office.
On the question of whether the withdrawn awards MPs Konstantin Isakin (PPB) and Alexander Gerega (independent), Chernihiv mayor Vladislav Atroshenko and the Deputy chief of Department of the Prosecutor General Konstantin Kulik, the AP said, "the Procedure of "review" of awards is not provided".
Reporters found that the President of Ukraine Petro Poroshenko on the occasion of the Constitution Day were awarded state awards of the people's Deputy Alexander Gerega and the mayor of Chernihiv Vladislav Atroshenko, who voted for the dictatorial laws on January 16.
Previously, Kulik was accused of illicit enrichment. In particular, it is established that he purchased the apartment in Central Kiev that have registered on the civil wife and mother, and Parking lots. These assets are not reflected in the Declaration of the official. In addition, the Prosecutor did not specify in the Declaration for 2013 auto Toyota Land Cruiser 100, which he started to use in 2010 on the basis of power of attorney issued by Vladimir Zhilin – the father of one of the leaders of the terrorist organization "Oplot" Evgeny Zhilin.
Comments
comments