Employee "of the Ministry of state security of the DPR" was sentenced to 11 years in prison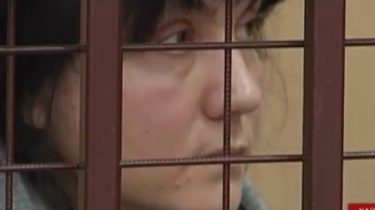 To 11 years of imprisonment of the employee of the so-called "Ministry of state security of the DPR" Callsign "Teresa" was sentenced by the Kiev regional court of Kharkov .
Reports a press about it-service of Prosecutor's office of Kharkiv region.
She was found guilty of participation in illegal armed groups and the violation of the territorial integrity and inviolability of the state.
As the investigation revealed that 47-the summer inhabitant of Kharkov in early 2014 she became an active member of the local "Maidan" and participated in Pro-Russian protests.
See also:
Scout "Azov" said the saboteur "Teresa" ruthlessly shot captured Ukrainians
The Prosecutor's office proved in court that in June 2014 the woman decided to participate in the activities of the so-called "DNR" and went in the Donetsk region. There she worked under the guidance of the head of Department of counterintelligence of pseudomesosella state security "DNR", he held the position of the so-called "commandant" of the several settlements of the Donetsk region, captured by terrorists.
In addition, employees of the security Service of Ukraine has collected evidence of personal involvement of the suspect in the interrogation of prisoners as local residents and military APU.
"Also "Teresa" was engaged in search and transfer of the "DNR" information about the number of personnel, type and quantity of weapons and military equipment, the movement of formations and units of the Armed forces of Ukraine, analysis of intelligence information", – told in Prosecutor's office.
It is also noted that among the "official duties" were condemned logistics activities of illegal armed terrorist organization "DNR", the formation of separate groups of intelligence-purpose military resistance of the APU.
Comments
comments