GPU accused the current commander of special forces for the crimes on the Maidan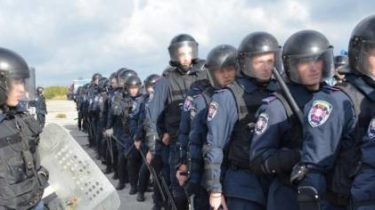 The Department of special investigation General Prosecutor's office of Ukraine has completed the collection of evidence about the involvement of one of the leaders of the Metropolitan riot police to crimes on the Maidan. Documents already submitted to the court.
As the press service of the Prosecutor General, during the revolution of Dignity this law served as a Deputy platoon commander of one of the mouth the operational units of special police "Berkut". He appeared in the case about the beating of students on the night of 30 November 2013.
See also:
The case of the Maidan: ex-Berkut officers declared an indefinite hunger strike – lawyer
Investigators claim to have collected enough evidence against the suspect, who is charged with abuse of power and office powers which was accompanied by violence, is painful and offensive to personal dignity of the victim actions; deliberate preventing of lawful professional activity of journalists and illegal interference with the organization and conduct of assemblies, meetings, committed by an official person in execution of a manifestly criminal order. The case was referred to the Shevchenko district court of Kiev.
The GPU said that now the suspect is the ex-Berkut officer working as a platoon commander of a regiment of special police No. 1 Chief Directorate national police of Ukraine in Kiev.
Earlier it was reported that in Zaporozhye SBU together with prosecutors detained six members of an organized group of current and former police officerswho were engaged in robberies. In the gang consisted of former "berkutovets" and current police officers. The attackers received from informants and information about obtaining large sums of cash. Then the form appeared at the place of residence of the inhabitants of Zaporozhye, a threatening with firearms and physical violence, took away the property and money.
Video settings Moscow on the dispersal of the rally lit up "ex-berkutovets" Kusyuk
TSN. 12:00
June 13, 12:40
Facebook

4

VKontakte

Google+

Twitter

3
Comments
comments