In Kiev took the oath and received certificates of the first representatives of the "Municipal guards"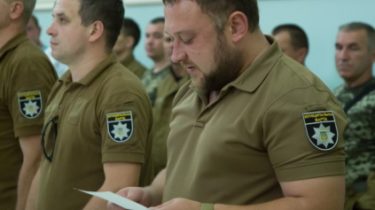 The mayor of Kiev Vitaly Klitschko handed certificates to the first 36 members of the new public formation for the protection of the rule of law "Municipal guard"who took the oath today.
This reports the press service of the KSCA.
The mayor noted that the creation of this unit is the first step to the emergence of the municipal police in the Ukrainian capital.
Also in the framework of the city program "Safe capital" created, in particular, a single data center, installed security cameras on the streets. Therefore, the creation of "Municipal guards" – is the result of efforts to help the police in ensuring law and order on the streets of Kiev.
The mayor noted that "Municipal guard" is the first step to the creation of the municipal police of Kiev. The newly created unit will help the police to secure and maintain law and order in the capital. In particular, to tackle the illegal trade, inadequate Parking, patrolling the streets of the city.
Kiev city public formation on protection of a public order and state border "Municipal guard" will work in all districts of Kiev, in close cooperation with representatives of the National police divisions.
Among the members of newly formed groups – members of ATU, who came from the East of Ukraine and eager to help in ensuring law and order in Kiev. You have already created the district units of the "Municipal guard", was appointed their leaders.
Soon there will be also a "hot line" formation.
"Municipal guard" works on a voluntary basis, however, the city, realizing the importance of funding for the formation, working to provide funds for its activities through the capital budget.
See also:
Druzhkovka dismissed the head of "municipal police" who cooperated with the militants "DNR"
Today received certificates the first 36 of the 100 members of public formation "Municipal guard".
Videoamanda Dnepropetrovsk "Berkut" was appointed head of the municipal police of the Dnieper
TSN. 19:30
27 may, 19:58
Facebook

VKontakte

Google+

Twitter
We will remind that earlier Verkhovna Rada of Ukraine authorized to create municipal guards.
Voted 288 deputies.
This bill provides that local councils can create guards that will be financed from the local budget or by other means not prohibited by legislation.
Comments
comments