Manafort and "black accounting" PR: NABU and SAP disown investigation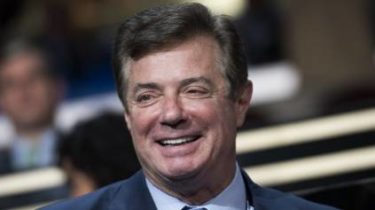 NABU and SAP is not mandated to investigate the activities of Paul Manafort as a political Advisor of the Party of regions.
This is stated in the joint statement of the departments.
"As repeatedly emphasized by the NEB and the Specialized anticorruption Prosecutor's office, the availability of the names of Sex of Manafort in lists of so-called "black accounting" does not mean that he actually received these funds, because in the column of recipients contains the signature of other entities. NABU and SAP did not conduct a formal investigation of the involvement of Paul Manafort to receive funds from Party of regions. He was not and is not Ukrainian civil servants and therefore can not commit acts of corruption in accordance with the Ukrainian legislation," – said in a statement.
His office circulated in response to numerous media inquiries and in order to avoid speculation in connection with reports of the receipt by the firm of Paul Manafort $ 17 million. USA from the Party of regions for 2012-2014.
See also:
Holodnitsky argues that there is no evidence of the involvement of Manafort to "black accounting", ETC.
Videogranny PR trump, who previously had to deal with Yanukovych, resigned
TSN. 19:30
19 August 2016, 20:39
Facebook

1

VKontakte

Google+

Twitter
In the materials handed over to NAB former first Deputy Chairman of SBU Victor Trepak in may last year, Paul's name is mentioned in Manafort 22 records for the period from 20 November 2007 to 5 October 2012. The total amount of expenses referred to in these records is 12.7 million US dollars.
Recall Manafort is the second former adviser to trump, who has registered as a foreign agent. To him in March, a former adviser to the President for national security Michael Flynn registered in the registry of foreign agents your consulting business, as he worked in the interests of Turkey.
Manafort had to resign as head of the electoral headquarters of the trump in August 2016 amid a scandal that erupted after the publication in The New York Times. The newspaper wrote about the details of his activities in Ukraine. Manafort worked as an Advisor to the President of Ukraine Viktor Yanukovych, who fled to Russia after the revolution of dignity in February 2014.
We also found out that the Party of regions was a "black accounts." Among the recipients of cash sounded and the name of Manafort, however, evidence of the receipt of cash, Ukrainian law enforcement officers never found.
Comments
comments