Militants "FSC" threatened to shoot the SMM monitors for the congratulations with the Constitution Day of Ukraine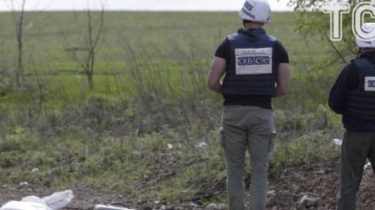 Special monitoring mission of the Organization for security and cooperation in Europe (SMM OSCE) said that the "LPR" threatened to shoot SMM monitors for the congratulations of the residents of the village of Vesela Hora on the Day of Constitution of Ukraine.
This is stated in the report as of 19:30 on 29 June, published today on the OSCE website.
Observers reported that in under control to fighters "LNR" the village Merry Mount to cars, the SMM was approached by two members of the "LPR", who were armed with Kalashnikovs, wearing grey camouflage clothing with no insignia and were wearing black balaclavas that covered their faces.
See also:
The militants fired at the field office of OSCE observers in Popasnaya
"They asked the members of the patrol, the SMM, who were in two vehicles, the observers visited the town the day before, and accused the members of the CMM that those congratulated local residents on the Day of Ukrainian Constitution. The armed men told the members of the CMM that they shot members of the SMM if the message persists," – said in the mission.
It said that the patrol, the SMM left the area and informed about the incident by the Joint center for control and coordination.
Comments
comments