The GPU has published video of interrogation of the defendant in the case of MP the Dade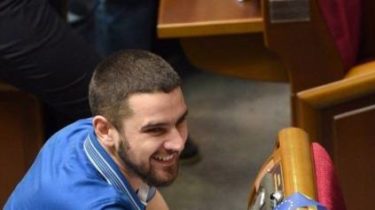 The Prosecutor General's office of Ukraine published the video with the interrogation of businessman Igor Lynch, which appears in the case of the illegal enrichment of people's Deputy Yevhen Deydey.
On the recording, Lynch argues that the transferred money to the parliamentarian, and his wife never saw. He allegedly lent him more than 100 thousand dollars in the fall of 2015, but a receipt is not requested.
"I don't remember whether it was 110, 118. For 100, roughly speaking. The money was parts of me taken in Kiev", – he said.
The names of people who collected money to Dade, he never called.
GPU also released a record with the transcript of the negotiations between Linchevski and an unknown man, who allegedly advised him that to speak in the interrogation.
As previously reported, in the result of joint verification of submitted electronic declarations of the GPU, SAP and NAB to the Verkhovna Rada of Ukraine prepared the submission for the lifting of parliamentary immunity of people's deputies Gennady legumes, Eugene Deydey and Andrey Lozovoy. According to Prosecutor General Yury Lutsenko, bean is accused of evasion from payment and Declaration of inadequate information. Of Dade, and he is accused of illicit enrichment.
Dade himself had previously claimed not worried about the possible deprivation of immunity.
"I am not afraid. I would be scared if something was stolen. I have lived 26 years without parliamentary immunity and is now ready to live without her. In these places, where I am in ATU, parliamentary immunity is not particularly helps," – said the MP.
The procedural Committee of the Verkhovna Rada on 3 July did not give the consent to criminal prosecution-procedural responsibility of Dade.
Comments
comments