In Kiev the employee of the Internet café was beating the visitor to death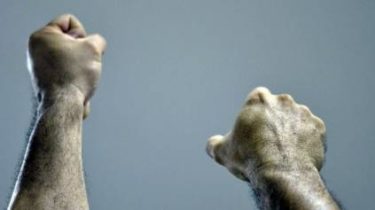 In Internet cafes, in the Dneprovsky district of Kiev, the worker is so severely beat the visitor that he was in the hospital.
It is reported by the Department of communication of the police of Kiev.
It is noted that the 33-year-old local resident with head injuries was found near the house on Prague street, the victim was hospitalized in an unconscious state.
According to witnesses, the man during the conflict, was beaten by the employee of the Internet cafe. While interacting with police 33-year-old employee of the institution confirmed the fact of the fight, which, he said, was provoked by the visitor.
The police started criminal proceedings under part 1 of article 121 (Deliberate heavy injury), the attacker could face up to eight years of imprisonment.
The investigators establish all the circumstances of the incident.
See also:
The Dnipropetrovsk teenagers beaten half to death and cut 14-year-old schoolboy
We will remind, in the village of Kozova, Ternopil oblast party ATO and contract servicemen severely beat the resident of Kherson. Male together with his brother drinking in a bar, where they began to discuss his criminal past, reports the press service of the Ternopil Nacpac.
Loud conversations did not like the local resident 35-year-old soldier. He called on the help of her 46-year-old friend. Finally, the conflict between the visitors ended in a police station, where the bullies calmed down, took statements and released.
Comments
comments