The OSCE PA called on Russia to withdraw its "Russian-troops" Donbass – resolution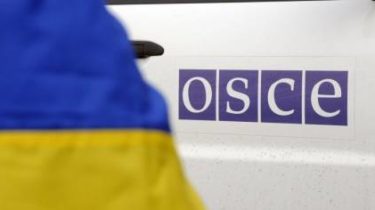 The OSCE parliamentary Assembly at the 26th annual session in Minsk adopted a resolution provisions in support of Ukraine.
About it reports "Radio Freedom".
"The OSCE parliamentary Assembly condemns the numerous serious instances of pressure, harassment and intimidation of observers from the SMM along with the cases of intentional destruction of property of the OSCE in certain districts of the Donetsk and Lugansk regions under the control of the Russian hybrid force, and urges the Russian Federation to take practical measures to ensure appropriate security conditions for the SMM with the aim of preventing further escalation of the situation", – stated in the resolution "Strengthening mutual confidence and cooperation for peace and prosperity in the OSCE region".
Besides, the parliamentary Assembly called for the cessation of hostilities in Ukraine, the full withdrawal of heavy weapons by both parties and provision of full access of Special monitoring mission of the OSCE and humanitarian aid.
Separately in the document called on the Russian Federation as the occupying state on the Crimean Peninsula not to interfere with the SMM monitors in Ukraine and to cancel the decision on the illegal annexation of Crimea.
In turn, the Russian delegation tried to rewrite the resolution and proposed to delete the phrase "Russian-troops". The Russian representative Pyotr Tolstoy said that in the Donbass no Russian troops, allegedly because it was "an internal conflict of Ukraine."
But Ukrainians supported the Swedish Deputy-speaker Margareta Zederfeldt, noting that "it is important to maintain peace in Ukraine, to stop Russian aggression and to implement the Minsk agreements".
We will remind, on March 16, 2014 on the territory of Crimea and Sevastopol was the so-called referendum on the status of the Peninsula by results of which Russia included the Crimea in its composition. Neither Ukraine nor the European Union nor the United States did not recognize the vote and believe that Russia illegally annexed the Crimea.
Comments
comments