In Ukraine first arrived U.S. Secretary of state Tillerson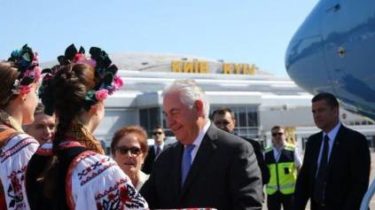 On Sunday morning, July 9, at the airport "Boryspil" landed the plane U.S. Secretary of state Rex Tillerson.
It is reported by the U.S. Embassy in Ukraine on Twitter as well as American diplomats.
Welcome to #Kyiv Secretary Tillerson! pic.twitter.com/vmg0KtNWJy
— Geoff Anisman (@geoffanisman) 9 Jul 2017
This is the first visit Tillerson. Today at 13:00 he will meet with President of Ukraine Petro Poroshenko. Will be talking about the territorial integrity of Ukraine and implementation of reforms, in particular economic, political and reforms in the military sector.
See also:
Poroshenko welcomed the decision to appoint Volcker by US special envoy
The ceremony will take place near the presidential Administration on Bankova. After two hours, Poroshenko and Tillerson will communicate with journalists.
According to "112 Ukraine", together with Tillerson arrived in Ukraine and newly appointed special envoy of the US Department of Ukraine with Kurt Volker. He is here together with the delegation.
Recall, on the eve, July 7, held the first personal meeting between the President of the United States Donald trump and the President of the Russian Federation Vladimir Putin. In the framework of negotiations behind closed doors, met U.S. Secretary of state Rex Tillerson and Russian foreign Minister Sergei Lavrov.
Comments
comments