The people of Kiev do not recommend swimming at all the beaches of the capital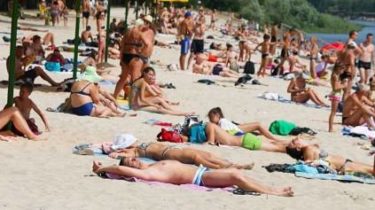 The people of Kiev do not recommend swimming at all 11 beaches of the capital.
This is stated on the website of the municipal enterprise "Pleso".
In particular, from July 10 it is not recommended to swim even at three city beaches, received this year's international environmental award "Blue flag" – the "Children's", "Gold" and "Pushcha-Voditsa".
In addition they advise not to swim on the beaches of the "Venice", "Youth", "Central", "Predmetna-Slobidka", "Palm", "Chartreu", "rainbow" and "Telbin".
The reasons for the announcement of such recommendations is unknown.
On the eve of social media people posted photos of water from the Dnieper, which is saturated blue-green algae.
See also:
In Kiev, the bathing season opened on 11 beaches. Infographics
We will remind, as of end of may nand the Odessa region, no beach was not suitable for recreation. In the field, no beach not received a special passport which will be given to the rescue after the inspection.
This was announced acting head of the Department of technogenic safety of gschs in Odessa region Bogdan, Hvorostenko. In particular, Artsyz'kyi, Podil, Razdelnyansky, Zaharevskaya, Shiraslan and several other districts of Odessa region did not provide places for bathing.
Thus of the 56 beaches of Odessa passport received only 23, though the season started on 1 may.
Comments
comments