Dobkin said he will only pay "reasonable" amount of bail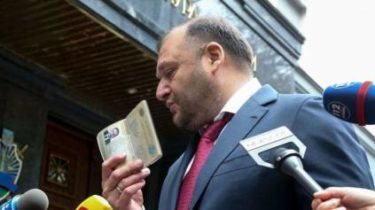 The people's Deputy from "Opposition bloc" Mikhail Dobkin was already questioned in the investigation Department of the GPU and go home, the correspondent of TSN.
After the interrogation, the MP said that he had handed in their passports and they aren't going to run away. And will not even try to collect a Deposit if it gets too large. However, an acceptable amount of collateral Dobkin is not called. Court to remand the MP in waiting for Monday and Tuesday.
"If I want to go to jail and give me the right of redemption, to redeem yourself, I will not, it's a matter of principle. Liens are different. If this will be any sane, then that's different. If it's hundreds, even tens of millions – I know and talk to won't be here. If I set bail, as I suspect, 200-300 million, even if you imagine that I gather this amount of friends, I'm not going to pay. I do not feel guilty. If they find me guilty, let him keep in prison", – said the MP.
Earlier, Dobkin came to the state to suspicion. According to him, he was charged with "abuse of power" and "fraud". To protect people's Deputy will be two European lawyers and the MP is hoping for the support of the defender from the United States, from whom they expect a response.
We will remind, on Thursday, July 13, the Verkhovna Rada at its evening session gave consent to criminal prosecution, detention and arrest of MP from the opposition bloc Mikhail Dobkin. For the removal of his immunity voted 288 deputies from 339 present, it was enough and thus, Parliament has consented to the prosecution of this MP.
On 29 June the attorney General Lutsenko made a submission to the Parliament on the granting of consent to the criminal prosecution, detention and arrest Dobkin. The GPU in the actions of nupdep saw the signs of deliberate arrangement by group of persons for abuse of office and promoting fraud to seize 78 hectares of land Kharkiv regulatory cost of more than 220 million UAH.
The correspondent TSN Valentine Mudryk
Comments
comments