Will not allow you to Rob the army: Poroshenko commented on the detention in Lviv armored plant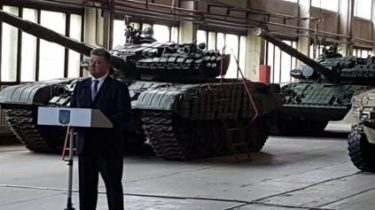 The President of Ukraine Petro Poroshenko responded to a loud detention of the leadership of the Lviv armored plantsuspected of theft, having assured, that will not allow anyone to cash in on supplying the Armed Forces.
He said this during a speech at the Lviv armored plant.
"As commander in chief and as President I will not allow anyone to Rob the army will not allow anyone to warm your hands on supplies to the Armed forces. This fully applies to the current leadership of the plant. Two months working with law enforcement agencies. Today made the relevant proceedings, giving honor and respect to the employees of the plant", – he stressed.
According to Poroshenko, currently on materials of the Security Service initiated 41 criminal case, they are transferred to Prosecutor's office, a significant number is already in the courts, warned of theft 631 million.
"We will continue to demonstrate our resolve in the fight against corruption. The Ukrainian people are giving the last, and stealing is not allowed to anyone. This is my position, is the position of law enforcement bodies", – said the head of state.
Separately, the President assured that Lviv armored plant will receive from the budget of 920 million on the tanks, fire trucks, armored vehicles "Dozor" and more.
Recall, July 13, at the workplace detectives NABOO detained the Director of the Lviv armored plant of the Novel Tymkiv and his Deputy. Officials suspected in "assignment, waste of property or taking to them by abuse of official position".
It is now known that Novel Tymkiv investigators anti-corruption Bureau was fortunate in the territorial management of NABOO.
Comments
comments