Deprived immunity Dovgy prepare the message on suspicion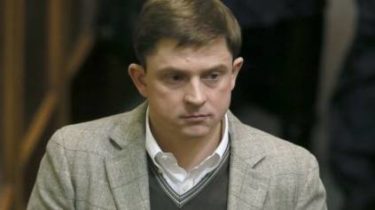 The people's Deputy group "people's Will" Oles Dovgy prepare the notice.
This was stated by the head of the Specialized anti-corruption prosecutors Nazar Golodnitsky, reports channel "112 Ukraine".
"Production is investigated by a joint investigation group and the group of prosecutors of the Anticorruption Prosecutor's office, Prosecutor's office of Kiev and NABOO. Now just the issue of declaring his suspicion and the election of the relevant events, we must also choose, given the decision of the Verkhovna Rada", – he stressed.
Holodnitsky hopes that the Moscow Prosecutor's office to quickly complete the investigation of production.
We will remind, Oles Dovgy is accused of land fraud in the capital over the working time Secretary the city Council. In the case where 45 hectares of land in reserved Zhukov island, only the nominal value of which amounts to 82 million. Lutsenko at the meeting of the Committee showed the document dated October 2007 with the signature of long.
The then Deputy of the city Council Natalia Novak says that while in the hall was not even a quorum, for him specifically changed the agenda, I confused the numbers of the decisions that the deputies did not understand, for what vote, and the margins have been circulating rumors about the $ 2 million allocated to each of the faction that supported the illegal allocation of land.
Dovgy says that the last link in the decision-making of Council is the mayor – then it was Leonid Chernovetsky. Therefore, they say, must ask him.
Comments
comments