Saakashvili stated about threats from Poroshenko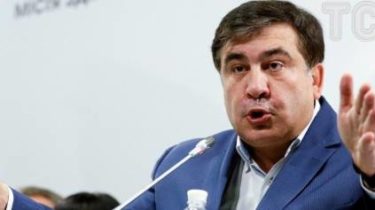 Former President of Georgia and former head of the Odessa regional state administration of Mikheil Saakashvili, which has deprived the Ukrainian citizenship, said the threats by the President of Ukraine Petro Poroshenko.
He said this in an interview with "Ukrainian truth".
"I had a two hour meeting with Poroshenko in March of this year in Malta. It was two hours of threats and blackmail on his part. Since then, I faced various troubles, I think it was his last warning," he said.
Saakashvili added that the Ukrainian President himself invited him to meet in Malta.
See also:
Saakashvili plans to appeal the deprivation of Ukrainian citizenship in court
"He told me that I have to stop, stop to criticize, as he said, to destabilize the Ukraine, to carry out Putin's plan… to which I laughed in his face. I told him that "Putin's plan" is what he's doing. Because he had established a strategic Alliance with Akhmetov holds in Parliament Homutynnik and other dealers, and agrees with them. I believe that this is "Putin's plan" is much more than what I am doing," Saakashvili said.
According to the former head of the Odessa regional state administration, Poroshenko, if he "be quiet," promised him in the next parliamentary elections faction in Parliament and "its own little niche in Ukrainian politics".
"The second he said that if I try to shake the situation and seek early elections, then, firstly, he is ready to impose martial law. To which I told him that he had no such forces, what it seems to be agreed. So he said that even if we do not introduce martial law, we will be taking individual action. And so ominously looked at me," – said Saakashvili.
Saakashvili also said that Poroshenko asked why he criticizes it, and not, for example, Tymoshenko and Avakov.
"I said that I criticize all the power, especially police, but after he became completely control the government, all responsibility lies on it. If Tymoshenko comes to power, it will become the object of interest," – said Saakashvili.
Videodemonstration President has officially confirmed the deprivation of Saakashvili Ukrainian citizenship
TSN. 19:30
27 Jul, 20:56
Facebook

3

VKontakte

1

Google+

2

Twitter

2
We will remind, the President Petro Poroshenko has deprived Saakashvli citizenship of Ukraine based on the recommendations of the Commission on citizenship issues under the President of Ukraine. This was reported in the presidential Administration.
Saakashvili himself said that it wants to make to refugee status, but he is going to pursue the legitimate right to return to Ukraine".
Ukrainian citizenship Saakashvili gave his decree the President of Ukraine Petro Poroshenko at the end of may 2015. On the eve of obtaining his Ukrainian passport was appointed Chairman of the Odessa regional state administration. In December 2015, it was deprived of Georgian citizenship.
At the head of the Odessa region , Saakashvili worked for a year and a half, after which he announced his resignation, accusing the President of violating the promises and progress to senior positions in the regional administrations of the "old corrupt". Then the former President of Georgia announced the creation of their own political powerwhich will go on elections to the Ukrainian Parliament.
Comments
comments