GFS opened a case against employees of the Center of counteraction of corruption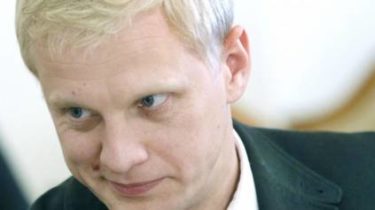 Investigation Department of the State fiscal service in Kiev two months is investigating criminal proceedings against the Center of counteraction of corruption.
About it reported in a press-service of the Center by publishing the response of the SFS to request a lawyer Dmitry Nochenka representing the interests of CTC.
"By results of consideration of the letter from 11.07.2017 to announce that 09.06.2017 SU FR GU SFS in Kiev, at the request of third parties on criminal offense officials of TH "Center of counteraction of corruption" brought in eRDR, a criminal proceedings for No. 32017000000000081″, – the document says.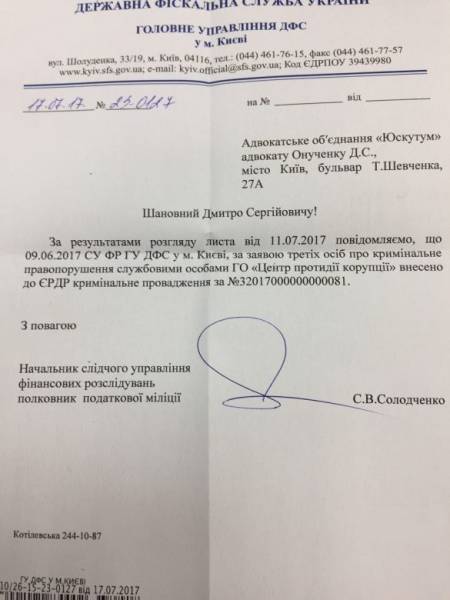 Center of counteraction of corruption
In turn, member of the Board of CPC, the lawyer Elena Shcherban said that the attorney had not informed of the grounds for initiating criminal proceedings, neither the broker nor the articles of the Criminal code, which opened the proceedings.
"This suggests that the tax authorities now actively looking for dirt on us and opened a criminal case in advance, and will now look for, what we "sew" to access our documents, dredging, search and listen to guidance and so forth," she said.
The Chairman of the Board of CTC Vitaly Shabunin called the criminal proceedings a continuation of pressure on the organization and intensification of attempts to block its work.
"This is a consistent continuation of the campaign against us, whose goal is the destruction of the organization. Most likely, the "third person", according to the statement which the attorney filed a new case, this is a former assistant Nikolay Martynenko MP Pavlo Pynzenyk. He threatened us with deprivation-profit status. His accusations are so absurd and unfounded that even sneaks who can't qualify them in specific articles of the Criminal code," he said.
According to Shabunina, no violations by the CPC and there was not, therefore, "response tax – no specifics, two months of investigation they have nothing to say on the merits of our allegations."
Clowns Poroshenko has started against another criminal proceedings. Rather, according to the statement Martynenko clowns http://bit.ly/2u3k5NN. Fix our attitude to this circus and its leaders gfceu below.
Published by Vitaliy Shabunin 2 Aug 2017
We will remind, earlier the head of the Center of counteraction of corruption was given a summons three soldiers, accompanied by guys with a camera. At the same time said assured that he is unfit for service for health reasons, and call the recruiting office has organized one of the officials. After that, antikorruptsionera came to the Dnieper in the Kiev military registration and enlistment office to find out why he received a summons. Near the building he had a verbal altercation with an activist blogger from Luhansk region Vsevolod Filimonenok, which subsequently burst out Shebunino in the face from a gas spray.
Comments
comments