Jalaludin completes the construction of the Busov Hill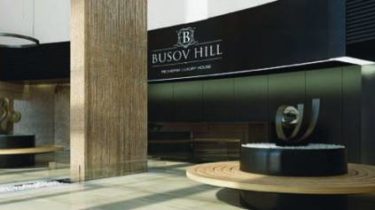 Advertising
Luxury new building in Pechersk Busov Hill put into operation this month. Thus, the company "Jalaludin" completes its most award-winning project.
"Luxury new year", "Best residential complex of premium class in Kiev", "Most comfortable luxury residential complex in Kiev"… is only a small part of awards and titles bestowed on the residential complex Busov Hill and its developer – the company "Jalaludin". Today, the house rises above the hills of the Botanical garden and the Dnieper, put into operation – completed laying of external and internal communications, end the measurements of BTI, and commissioning of the equipment.
In the presence of only a small portion of the 146 luxury apartments. However, according to the company "Jalaludin" remaining apartments by area and type will satisfy even the most demanding customers.
The creators of the Busov Hill in every detail strive to achieve perfection. To do this, picked up the best land on the highest point of Kiev — Busboy Mountain. Clean air National Botanical garden, respectable surroundings, the silence and the conditions of the neighborhood… all of this is excellent with proximity to the business center of the capital.
Having studied the best European and Ukrainian experience, we can safely say: Busov Hill technical analogues in Ukraine. The house system Glass Wall: Windows in aluminum profile premium Sieso (Germany) extend from floor to ceiling the entire width of virtually every room.
The conceptual features of the buildings – it is intimacy, privacy accommodation, which is provided by a small number of apartments on each floor from 1 to 4. While the occupants of the 146 apartments will be served by 6 high speed noiseless Swiss Schindler elevators. Autonomous heating and hot water due to boiler equipment Viessmann, own transformer substation for uninterrupted power supply and dedicated high capacity network for every apartment, additional noise and termoizolacja area of the entire apartment, the automated monitoring system and building management… all of this will ensure maximum comfort and safety of future residents of the complex.
The rich decoration of common areas including an impressive lobby with a ceiling height of 7.8 meters with the walls-waterfalls, and the author's installations, is a daily confirmation of the high status of owners of apartments in the Busov Hill.
Another "know-how" of buildings — availability of wheelchair-Bicycle Parking – spacious storage with a private stop Elevator. Closed territory, video surveillance, multi-level access control system, physical security — all these and many other factors make the Busov Hill house who does not follow trends, but creates them.
The house is located on the parcel to provide excellent views for each plan. Most of the apartments Busov Hill partially or completely oriented views of the Botanical gardens and the Dnieper. The environment of low buildings provides a unique specific characteristics, even on the lower floors of the complex.
Visit the best residential complex of premium class in Kiev daily – the sales office Busov Hill working seven days a week.
Comments
comments