Deprived of Ukrainian citizenship, Saakashvili arrived in Poland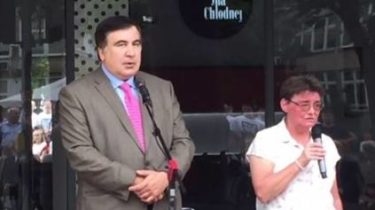 Former President of Georgia Mikheil Saakashvili, who was recently stripped of Ukrainian citizenship, arrived in Poland to celebrate the 73rd anniversary of the Warsaw uprising.
It is reported by the Polish edition of Telewizja Republika, which published on its YouTube channel a video with his statement.
Saakashvili began his speech in Polish, then switched to English. During his speech, the politician touched upon the cooperation of Georgia and Poland, and also spoke about Ukraine.
It is unknown what the policy document arrived in the country. In a press-service, Saakashvili has not yet commented on his visit.
We will remind, the President Petro Poroshenko has deprived Saakashvili of citizenship of Ukraine based on the recommendations of the Commission on citizenship issues under the President of Ukraine.
Saakashvili himself said that it wants to make to refugee status, but he is going to pursue "legal right to return to Ukraine".
See also:
"Changed the locks, threw things out the window." What Saakashvili said about the deprivation of citizenship of Ukraine
Ukrainian citizenship Saakashvili gave his decree the President of Ukraine Petro Poroshenko at the end of may 2015. On the eve of getting a Ukrainian passport he was appointed Chairman of the Odessa regional state administration. In December 2015, it was deprived of Georgian citizenship.
At the head of the Odessa region , Saakashvili worked for a year and a half, after which he announced his resignation, accusing the President of violating the promises and progress to senior positions in the regional administrations of the "old corrupt". Then the former President of Georgia announced the creation of their own political powerwhich will go on elections to the Ukrainian Parliament.
Comments
comments