I don't want children all over Ukraine blamed me for cowardice. The last word of the Crimean Baluja in court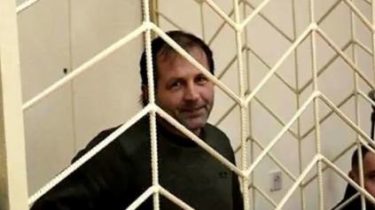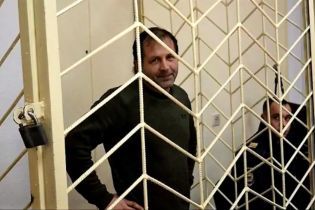 In the annexed Crimea on August 4 denounced the Ukrainian activist Volodymyr Baluja to 3 years and 7 months in prison and 10 thousand roubles of the penalty. He was charged with illegal possession of ammunition and explosives that were allegedly found in the attic of his house. Baloch pleaded not guilty. Experts believe that the criminal case against the activist is a continuation of politically motivated persecution for public Pro-Ukrainian position.
See also:
Journalists TSN prisoner He wrote letters of support
The Crimean human rights group has published the text of the last words of Ukrainian "Razdolnensky district court." He appealed to all Ukrainians in the Crimea.
"I'm in court I will not say anything, I say to the people, not just those who are here now, but for those who are outside this building.
To begin with, that in fact no criminal case, there is only a charade, played out by those who are entrusted to deliver.
The origins of this in some cartridges, not in some substance, which inexplicably recognized by the court as explosives, no reason no. Decided me here "urabotat" since the occupation of Crimea. And the situation around me lasts a long time, probably since 1999 when I first took part in elections not only as a candidate but as a member of the district election Commission. Since then I in all elections worked in the commissions, whether precinct, or district. The reason lies in the integrity of my position.
Often people say these words: here we don't live normally, even though the children will live. While trying to make money, well-being to give children, not realizing one simple thing – yet we are your children in your hands will not give not that ideal state, but at least grafted inside of them the desire to be free people, to defend their freedom and their human dignity, beat in the face every time a nation when it becomes some kind of framework. And not just beat in the face, and advance human life.
Life is a great gift that is given to everyone, and a great trial. Burning this life, people need to understand that their freedom, honour and dignity only in their hands.
I don't know the history of this state, which would protect human honor and dignity. Each state, taking on certain functions of the state assumes a monopoly on violence, formally, on paper, pledging to defend the honor, dignity and rights. In fact, this monopoly is used with one purpose – to protect itself from the people, to oppress them, to get to do what is necessary not to the state as a structure, and individuals of this state, to consider themselves a monopoly not only individual resources, but also a monopoly on honor and human dignity.
If people do not agree with some decision, for objective reasons, it is always possible, using a state machine to achieve in order to break the will, break the person, to deprive him of health, of life. This machine won't stop, because at stake for them the most sacred – the money, the ability to receive and use something that actually belongs to the world, people who live on this earth.
So I think, this is my opinion, if God forbid, at some point people will forget about such words as freedom, honour and dignity that this world will cease to exist. And as long as there are people, the world will exist. If the Lord will give us such a blessing that such people will become more, then the state, without which, at this stage of history will not do, its structure will be forced to improve. It always happens under public pressure and public organizations.
What happens with me, a vivid example of how this can work the state machine. Nothing is sacred, no legal arguments, nothing it does not work, and it's all on the word of one or more persons. This is the first reason of my stay here. The second reason is my love for my country, all what I'm made of, to my nationality, to the memory of my ancestors, all I know of them, were Ukrainians, decent people who keep the tradition. So we were brought up and the mother and father. For me, the homeland is the same as the mother, family, children.
The occupation of Crimea was a starting point. No wonder here in case the details have surfaced since 2010. The system has long been successfully grinds that such people, many breaks, many agree. After all, how the system works – I had a choice. If I stepped on the throat of his own song, and forgot their principles, in order not to be in prison, were sufficient to admit his guilt, to morally break. And this character, who sits across from me, he would not 5 years and 1 month requested, and some 2-3 years, perhaps probation – only broken.
So – I don't want life on earth ceased, I don't want that someday my descendants, children all over Ukraine, reproached me that I somewhere lost heart showed weakness. Yes, there were objective reasons, nobody wants to worry that I worry now. Any person can understand, but the best years of my life, I still lived, and at this age to show cowardice I can not afford. Therefore, everything happens as happening.
The only thing I ask the nurse on my behalf to ask mom's forgiveness."
We will remind, earlier "court" in occupied Crimea has sentenced Crimean Tatar Ruslan Zeitullaev on trumped-up charges of terrorism.
Comments
comments