Journalists showed how tuples Lutsenko, Lozhkin and other politicians violating traffic rules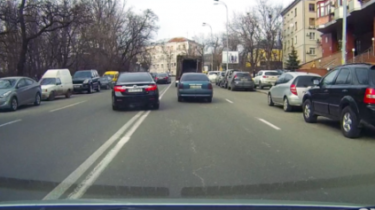 In July, before considering to remove the immunity of several MPs in the Verkhovna Rada a tuple Prosecutor General Yury Lutsenko violated the rules of the road.
Going on Klovsky descent, the motorcade drove into the oncoming lane, crossing the double solid line, says the investigation of journalists of the program "Schemes".
According to journalists, such a violation is a tuple Lutsenko carries out systematically.
The editors sent a request to the Prosecutor General's office to find out the reasons why the motorcade of the attorney General systematically violate traffic rules, but there was no answer.
See also:
The fatal crash trucks in Poltava region could cause mysterious VIP motorcade
Traffic rules violating tuples and other Ukrainian politicians. For example, a car with the former head of Administration of the President, and now Secretary of the National investment Council Borys Lozhkyn turned into the opposite lane in the lane Rylsky. After a few minutes the SUV with Lozhkin got in an accident.
A tuple with the people's Deputy Igor Kotwicki, associate of interior Minister Arsen Avakov, and several times crossed the double solid lane. Also the car of the Deputy regularly standing on the sidewalk.
Journalists have also documented how car deputies Igor Kononenko, Eugene Heller and Andrew Ivanchuk was parked in violation at the intersection. Violate the traffic tuples of the leader of Radical party Oleg Lyashko, the Chairman of the District administrative court of Kiev Pavel Vovk and others.
Comments
comments