Turchynov to Donbas have experienced the unique technology of blocking of separatist TV channels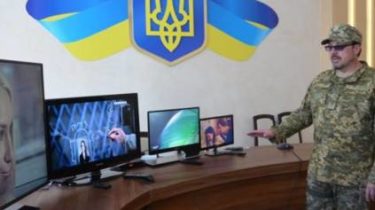 In Pokrovsk the Donetsk region has experienced a unique modern technology that will allow you to block the channels of the separatists in the Donbas. In testing the information system adopted by the Secretary of the national security Council and defense of Ukraine Oleksandr Turchynov, who visited the Donetsk region with a working visit.
This reports the press center of staff ATO.
The method of suppression of television broadcasting not controlled by Ukrainian authorities territories in Donetsk and Luhansk regions has developed one of the leading Ukrainian companies. It allows you to effectively create interference in the broadcast channels up to 10 channels simultaneously. For blocking frequencies, this technique provides unobstructed work of the Ukrainian channels.
See also:
Ukrainian radio began broadcasting in the occupied areas of Donbass
According to Turchynov, after a few months of the locking system of the Pro-Russian channels will be installed along the entire demarcation line in the Donbas, reports 06239.com.ua.
We will remind, five Ukrainian TV channels will start broadcasting in occupied to the Crimea. Broadcasting will be from the Chongar of the tower to the North of the Crimea. It will be digital in the DVB-T2 standard. In the air of the Peninsula appears UA:Crimea, black sea TV, ICTV, channel 5 and the Straight line (Tony's). Their audience is estimated at more than 200 thousand Crimean. Start of broadcasting is planned for Independence Day – August 24.
SECRETARY OF THE NATIONAL SECURITY COUNCIL AND DEFENSE OF UKRAINE OLEKSANDR TURCHYNOV IN THE FRAMEWORK OF THE WORKING VISIT DEMONSTRATED "WEAPONS …
Published by the Press center of the ATO headquarters August 3, 2017
Comments
comments