Murder, assault and the embezzlement, the Prosecutor's office of Georgia told how many years of prison threatens Saakashvili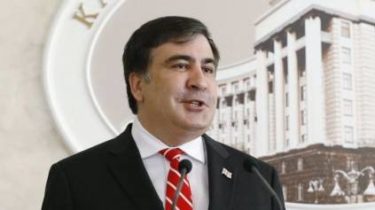 Deprived of Ukrainian citizenship by the former President of Georgia and former head of the Odessa regional state administration of Mikheil Saakashvili in Georgia is charged with four criminal counts. He faces up to 11 years of imprisonment.
In an interview with "the observer" said the Main Prosecutor of the Prosecutor's office of Georgia Natia Songulashvili.
According to her, the investigation in these cases is already completed, now it is the trial at Tbilisi city court.
Videomichael Saakashvili went on a Skype-connection from the USA with Ukrainian journalists
TSN. 19:30
1 Aug, 20:11
Facebook

1

VKontakte

Google+

Twitter

3
Natia Songulashvili noted that the former head of the Odessa regional state administration is accused in cases:
– the murder of Bank employee Sandro Girgvliani,
See also:
MP: Poland has not received demands for the extradition of Saakashvili
– the embezzlement of public funds from the Fund of the Special state protection service of Georgia for personal needs in especially large sizes (approximately 9 million gel),
– about the brutal beating of a Deputy of the Georgian Parliament Valery Gelashvili,
– about the capture and weaning opposition to Saakashvili TV channel "Imedi", as well as other business from the businessman Badri Patarkatsishvili and his family.
According to Songulashvili until 2012 in Georgia terms for all criminal charges were summed, and the man could receive 30 or 40 years of imprisonment. In 2012, the Georgian Parliament changed the law and now the heavy article absorbing the rest.
See also:
Georgia will require the US to extradite Saakashvili, if he stays in this country
"Because of this, now, if a person has 3-4 charges, it will have only one term. Thus, to Mikheil Saakashvili faces 11 years in prison, if the court rules a guilty verdict," said Prosecutor of the prosecutors office of Georgia.
We will remind, the President Petro Poroshenko has deprived Saakashvili of citizenship of Ukraine based on the recommendations of the Commission on citizenship issues under the President of Ukraine.
Saakashvili himself said that it wants to make to refugee status, but he is going to pursue the legitimate right to return to Ukraine".
Ukrainian citizenship Saakashvili gave his decree the President of Ukraine Petro Poroshenko at the end of may 2015. On the eve of getting a Ukrainian passport he was appointed Chairman of the Odessa regional state administration. In December 2015, it was deprived of Georgian citizenship.
At the head of the Odessa region , Saakashvili worked for a year and a half, after which he announced his resignation, accusing the President of violating the promises and progress to senior positions in the regional administrations of the "old corrupt". Then the former President of Georgia announced the creation of their own political powerwhich will go on elections to the Ukrainian Parliament.
Comments
comments