Dear 1st of September. How much it costs to raise a child to school through online shops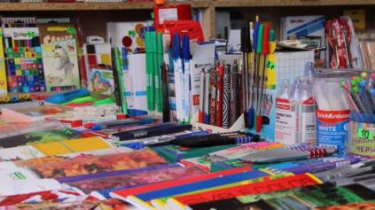 Collect child to school in style by running through the markets, shops and school bazaars. To save money, the parents are bought in a few months, or even winter, as well as wholesale. Another saving option – online shopping. Online purchase standard economy set of stationery and clothing for the apprentice will cost two and a half thousand hryvnia.
The average purchase of the necessary school supplies will cost UAH 2539 for girls and 2403 UAH for a boy. For the same set, but with the best quality, parents will have to pay 5347 5520 UAH or UAH respectively. This study was conducted by analysts of the online market Bigl.ua for "Today".
Most of all this year rose sneakers, school bags and backpacks. Thus, the average price of sports shoes now higher by 30 UAH – if in 2016 the price was 383 UAH, while this year's 413 UAH. And more expensive school bags and backpacks – their average price has risen by 40 UAH, and now it is UAH 306. Cheaper sets of pencils last year on average they cost 64 UAH, and this year – 56 UAH. In addition, slightly decreased the price on the pants for girls – from 269 to 261 UAH. But in General, the price of school kit in comparison with last year increased by about 7%.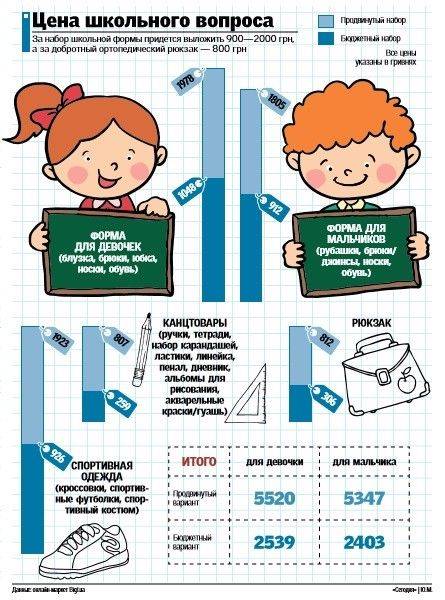 Today
During online purchases experts advise to use the marketplace – the special online sites where you can compare the prices from different online stores and select the best price.
In addition, a good solution for the budget conscious Ukrainians not for the first year is the wholesale purchase of school supplies from the manufacturer.
"In a parallel class the parent Council have ordered blouses and shirts children directly in the Ukrainian factories. One person went a funny price is 70 UAH", – said Alice Velichkov from Kramatorsk, Donetsk region.
We will remind, since the beginning of August in Ukraine began to operate the school bazaars. On the weekend of 12 and 13 August at the citywide school fair will transform the street Khreshchatyk in Kiev – the odd side, lower sidewalk from the main exit from the metro station "Khreshchatyk" to Bessarabskaya square. Trade will work from 9:00 to 18:00.
Comments
comments