High prices and substitute: what will happen to the alcohol market of Ukraine after government changes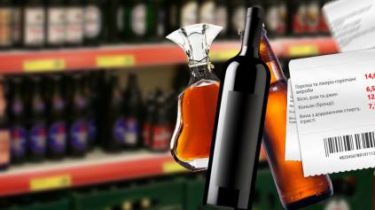 Today, August 9, the Cabinet of Ministers adopted a decree according to which will increase the minimum wholesale and retail prices on alcoholic products.
In particular, retail prices of vodka and LIKERO-vodka products will increase by 14.0-19,41%; whiskey, rum and gin 6.5-6.6 per cent; cognac (brandy) – 12.3-29.1 per cent; wines with added alcohol, sparkling 7.1 to 13.3%.
Raising the minimum price is the next step after the increase in excise duties on tobacco and alcohol, which came into force in March.
The Cabinet said that the increase of minimum price on alcohol to protect consumers from counterfeit and surrogate products and to reduce the share of the shadow economy. However experts are assured that thus "shadow" the market will only increase, while sales of legal alcohol will decrease significantly. Moreover, the Ukrainians will be forced to use a surrogate product, because it will not be possible to buy honey from the counter.
See also:
Drink more often but less: scientists have discovered a positive impact of alcohol on health
This is evidenced by the reduced volumes of legal manufacture of alcohol, as well as the disappointing statistics, Ministry of health – since 2011, victims of alcohol poisoning were more than 92 thousand people. Regular inspections by the tax police in 90% of cases fix violations in the circulation of alcohol. According to DFS, while checking 42 thousand points of sale of alcohol over 38 thousand people work, breaking the law.
According to experts, every year the legal market of alcohol is reduced, however, a growing number of producers of a substitute.
The head of the Association "Ukrvodka" Vladimir ostapyuk said TSN.ia that this is only one of the tools that will affect the absence of illegal products in the network and provide Ukrainians with quality alcohol.
"All legitimate producers professional associations supported the adoption of the resolution on minimum retail price (MRC). Let me remind you that March 1 was increased the excise tax by 20%, increased prices on alcohol, so there had to be indexed by MRC as one tool of full payment of taxes. This should have a positive impact on revenues to the state budget and local budgets, first and foremost. Also, the control of completeness of payment of excise duty," said ostapyuk.
See also:
The court ordered the government in Kiev to lift the ban on night sale of alcohol
According to him, after today, August 9, was accepted in minimum price any consumer and the body which monitors using MRC will be able to determine the excise duty paid or not paid.
"Everything will be sold less than UAH 79 55 COP., will be the product which not pay taxes, where evading excise duties, VAT, etc. Respectively, then sanctions will be applied to these businesses, companies, suppliers and so on", – said the head of "Ukrvodka".
It is worth noting that after 10 days, automatically, networking, stores and anywhere alcohol is sold, the price will be at a new level. This happens not for the first time, and almost every year. This year the process is slightly delayed, because the excise tax entered into force in the spring, and it turns out six months, the market existed with obsolete prices.
See also:
In Ukraine, will increase the excise tax on alcohol and tobacco
In turn, ostapyuk added that now how much more expensive products, so increase the budget. According to him, roughly, 5% of the retail fee, will increase revenues by approximately 14%, respectively, at 14-15% increase in revenues on VAT.
Video settings Ukraine again, more expensive alcohol and cigarettes
Snidanok 1+1
20 July, 09:30
Facebook

VKontakte

Google+

1

Twitter

Viber
Economist Andriy Novak said TSN.ia the consequences of raising excise taxes will be disappointing because it is very hit alcohol market, meanwhile, did not significantly replenish the state budget.
It should be noted that Ukraine still tobacco and alcohol are extremely cheap compared to our neighbours, not to mention the countries of Western Europe, but prices should be compared with the income level. If so to say, alcoholic beverages is quite expensive and that is why after a wave of higher excise taxes and minimum prices for most Ukrainians this legitimate products that are sold in the networks, was simply unavailable or inaccessible. Therefore, a large percentage of consumers looking for a cheaper alternative, namely the purchase of counterfeit goods and smuggling is also very active now resumed samogonovarenie in rural areas. All this is due to the fact that alcohol prices do not match the income level of Ukrainians.
See also:
In Kharkiv, 13-year-old schoolgirl was in intensive care after poisoning surrogate alcohol
On the one hand, of course, we must talk about the health of the nation, and on the other that the government, when he raises the excise tax and minimum price, expects to receive additional revenues to the budget, but in connection with falling sales and consumers increase the purchase of substitute income in the budget will grow slightly. Maybe this year it will be a few billion hryvnia. Therefore, globally this does not change the state's budget, but significantly changes the ability of Ukrainians.
The increase in any tax and excise does not give a mathematical increase in budget revenues. Income is correlated with sales volumes if prices rise too, accordingly, there is a drop in sales.
According to the economist, the government wants to increase revenues so looking for the easiest ways it is filling, and pay attention to such products, which has a large and constant demand. However, in Economics it doesn't work – says the expert.
– This will lead to a reduction in sales of legal products that will lead to cuts in production by manufacturers, and sometimes even to the closure of production. There is a dilemma between the objective content of the budget and investment in this sector.
See also:
Top 5 myths about alcohol
The shadow market has grown and will grow. Incomes of Ukrainians do not grow by 12-18% in such a short period.
Now is an unpleasant emphasis on the shift of consumption in favour of strong alcohol. Less consumption is beer and wine, but no longer on vodka products, most of which are illegal, because the technology of beer production is much more complicated.
Andrew Novak added that most likely, hopes to increase revenues from excisable products, especially beer, are not justified. On the contrary, they may decline as it will be a decrease in demand due to rising prices and, probably, catastrophic drop in production with a simultaneous increase of the informal sector that taxes, as we know, does not pay.
See also:
Unhealthy liver: how alcohol destroys one of the major organs
"We seem to be moving to Europe, but they are pulling people away from her, because there is in the structure of consumption is dominated by beer and wine, and hard alcohol has a much lower share," he said.
As for the alcohol producers, the Director General of "Veles", TM "Kolonist" Mr Holodynes said they expect the negative trend in sales, since no price increases positively affect profits.
– First of all we immediately see an increase in rates, a difference that is felt by the consumer. The manufacturer is forced to raise prices, which of course will affect the drop in sales. Still no increase in prices has not led to increased sales. Therefore, we anticipate a negative trend. As far as I know, this time took a price increase of about 20%, respectively, and the price of alcohol will be significantly increased. For example, last time it was 30-40%.
The products that now stands in the stores we will not touch and she will be still at the old prices. However, the new party will be at the new prices. We have time, so we can refocus our prices, so it will be too late. Now we can provide assessments, because the new price will depend on many factors, including its cost, taxes, etc.
Priznaytes to TSN from Viber that atribuite
nivalis news just the messenger!
Comments
comments