The testimonies of versions and scared Kiev. What is known about the explosion at Grushevskogo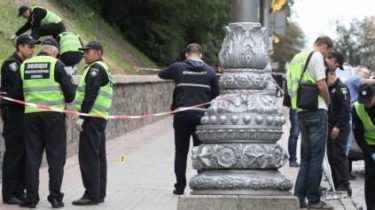 Thursday, August 24, after the military parade for Independence Day in the center of Kiev on the Grushevsky street near the building of the Cabinet, an explosion occurred. As a result of wounds received three people – two women and a man.
Intelligence and the national security Council are slightly different. In comments to UNIAN a press-the Secretary of SBU Elena Gitlyanskaya pointed out that the basic version of explosion – hooliganism. "The operative group of the SBU together with other law enforcement agencies working at the scene. While the main version is hooliganism," said she.
At the same time, the NSDC Secretary Oleksandr Turchynov said that the explosion could be a pre-planned terrorist attack. "We do not exclude that this planned terrorist attack that tried to make Independence Day not everyone was able to enjoy the holiday," he said in comments Hromadske. He also added that now is the search for those terrorists.
Now on a place of explosion there are representatives of intelligence, police, NSDC Secretary Oleksandr Turchynov, Chairman of Napolli Sergey Knyazev and the head of the Metropolitan police Andrey Krishchenko.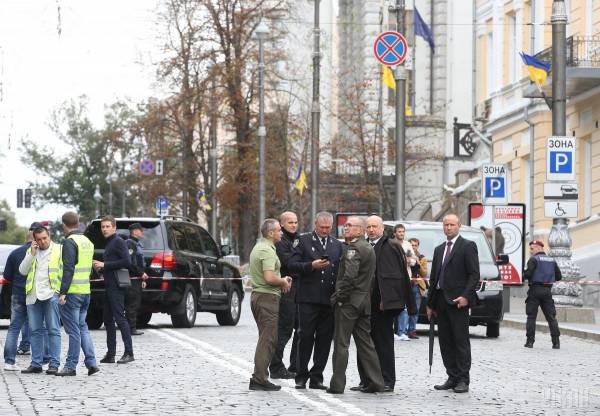 UNIAN
At the same time, witnesses said some details of the incident. Someone claims that an unknown person threw a homemade explosive device on the roadway Hrushevskoho street, a few metres from the Cabinet.
Someone said that the explosion near the building of the Cabinet prosocial due to the fact that the car of the Azerbaijani Embassy threw a package of explosives.
"Just on the street was a "terrorist act": throwing firecrackers on the car Azerbaijani Embassy… not dokinuli!!! The injured woman and the guy that was walking…," wrote Vitaly Georgians on its Facebook page.
Just on the street Hrushevsky was a "terrorist attack" threw a firecracker at the car Azerbaidzhanskogo the Embassy … not dokinuli!!!! the injured woman and the guy that was walking…
Posted by Vitaly Georgians on Thursday, August 24, 2017
Some eyewitnesses reported that there were two explosions. "First there was one explosion, like a firecracker, and then a big Bang. We saw that one person was holding his head, he was bleeding from the head and it helped someone. Then we found out that it was a woman. It took the ambulance. The police quickly arrived, and the ambulance in 10 minutes," said Yaroslav "Gromadska".
Comments
comments